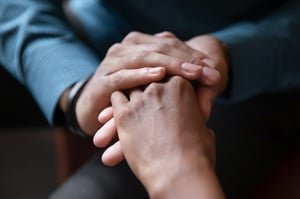 One of the benefits of being an alumnus of Saint John's University is having access to a daily reflection written by one of the monks at Saint John's Abbey. Every morning at 1:00 a short reflection by Fr. Don Talafous drops into my email timeline.
The reflection that arrived this morning spoke of something that is true of life in general, and very much spoke to the purpose of our practice at Kain & Scott.
The reflection was about the loneliness that humans experience when in distress, and our reaction to it. Sickness, accidents and unexpected bad events frighten and isolate us. The writer notes "we're not only afraid of sickness in general, we're afraid of anyone's sickness, not just our own." And later: "people are often left alone in their most desperate moments."
Money problems scare and isolate us. At Kain & Scott, we're here to help you when you experience financial distress – not just by preparing legal documents and providing professional representation in a bankruptcy case. We are here to let you know that you are not alone.
And when I refer to "we," I refer to everyone who works at Kain & Scott. The person you speak with when you call our office. The person who greets you and makes you comfortable when you arrive for your appointment. The legal assistant and the lawyer responsible for guiding your case from preparation, to filing with the court to the meeting with the bankruptcy trustee and then through to your discharge. The assistant who helps you with your credit after your bankruptcy discharge. For all of us, our purpose is to see and respect you as a person deserving our attention and service.
CALL NOW FOR A FREE STRATEGY SESSION FROM A MN BANKRUPTCY LAWYER AT KAIN & SCOTT
You will notice the attention we give you from the moment you contact our office until the last day that you ever need our help. We're here to make sure you are not alone. For more information, find us at: www.kainscott.com.