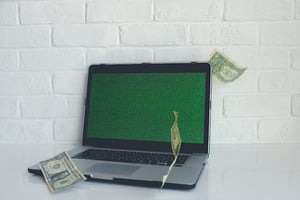 The goal in consumer bankruptcy cases is the discharge of debts. Both a successful Chapter 7 and Chapter 13 bankruptcy will end with the court discharging a debtor's qualified debts, which releases their obligation to pay those debts. It is important to understand what happens when you file bankruptcy,when a discharge occurs and how it works to improve your financial situation.
What is a Discharge?
When the court discharges a debt, it eliminates your legal and contractual obligation to pay the balance of the debt. Once the court enters this order, creditors may no longer do any of the following regarding the debt:
Request payments

Make collection calls

Send collection letters

Enforce wage garnishments

Report past due payments to credit reporting agencies

File a legal action to seek a civil judgment for payment of the debt

Take any other actions to seek payment for the discharged debt
This discharge can leave you with a relatively clean slate when it comes to your debts and allows you the opportunity to gain control of your finances.
When Does the Discharge Occur?
In order to receive a discharge, you must complete all stages of your bankruptcy case and meet all requirements under the law. This includes:
Chapter 7 - Filing the petition, all schedules, and any other required documents or forms with the court, attending the meeting of the creditors, and participating in the required credit counseling and financial management course.
Chapter 13 - Filing the petition, all schedules, and any other required documents or forms with the court, attending the meeting of the creditors, participating in the required credit counseling and financial management course, and successfully completing your court-approved repayment plan.
After the court determines that you completed all requirements of your bankruptcy case, it will send you the court's discharge order. Once the bankruptcy trustee wraps up any additional payment or litigation issues, your bankruptcy case may be closed. Generally speaking, a discharge occurs about three to four months after you file a Chapter 7 petition. For Chapter 13 cases, the discharge will occur after the completion of your repayment plan, which may be three or five years long.
Dischargeable Debts
From the beginning of the bankruptcy process, you should always fully understand which debts will be eligible for discharge at the end of your case. Generally speaking, the following debts are dischargeable:
Credit cards

Medical bills

Some tax debts

Most legal judgments

Unsecured personal loans

Loans from friends or family
When you receive an order of discharge, it will make clear the debts that are not dischargeable. Some debts that survive bankruptcy include:
Child support and spousal support arrears

Most student loans, unless you can demonstrate financial hardship

Some tax debts

Criminal fines and restitution

Personal injury judgments arising from drunk driving accidents

Debts arising out of fraudulent acts

Some retirement plan loans

Anything for which you signed a reaffirmation agreement during your bankruptcy

Any debts for which a creditor successfully challenged a discharge
If a creditor has a perfected security interest in your property, the security interest remains after a bankruptcy discharge (a debtor's legal and contractual obligation to pay on the secured loan is discharged, though). An experienced bankruptcy lawyer can review any secured debt or liens you have and advise on your best options for resolving them.
After a discharge and the resolution of your bankruptcy case, you should be prepared for the automatic stay to be lifted. This means that creditors can resume any collections efforts of non-dischargeable debts. You should discuss which debts will remain with your attorney so there will be no surprises about what payments you will still owe and how to budget for them.
On the other hand, some creditors may wrongfully try to collect a debt that was discharged as part of your case. If this occurs, your attorney can report the wrongful collection to the court and can help get you the proper protection from such continuing collections for debts you no longer owe.
Once your case is over, you may want to shred any paperwork and forget about your struggle with your debts. However, it is wise to file your discharge order and other bankruptcy documents somewhere safe. If a creditor later makes any collection attempts, you can provide them with the case number of your bankruptcy and the date the debt was discharged. If they continue to try to collect, they may face civil penalties and may have to pay damages to you. Additionally, if you apply for a mortgage or an auto loan down the road, a potential lender may request to see your discharge order as part of your application.
A Discharge is Not Always Guaranteed
Just because you file for bankruptcy does not mean that you will receive a discharge of your debts. If a bankruptcy trustee believes that you are not cooperating in your case, they can request the court to deny or revoke your discharge. If the court believes that you did not meet all the requirements of your case, it can also choose to dismiss your case without a discharge. Some acts that may risk losing a discharge including:
Not completing the necessary credit counseling requirements

Missing the 341 Meeting of Creditors

Including false information or inaccuracies on your paperwork or in testimony to the court or trustee

Failing to turn over property or assets as required in Chapter 7 Bankruptcy

Failing to make your payments as agreed in your Chapter 13 Repayment Plan
Having to refile a bankruptcy because of a dismissal or denial of a discharge can be time-consuming and costly. You will also then owe more on your debts than you did at the beginning, putting you in a significantly worse financial situation than you were in when you decided to file bankruptcy. For this reason, you should have the guidance of an attorney throughout the entire bankruptcy process to ensure you have the best chance of a discharge at the end of your case.
Wondering What happens When You File Bankruptcy In MInnesota?
The Minnesota bankruptcy lawyers at the firm of Kain & Scott regularly handles both Chapter 7 and Chapter 13 bankruptcy cases. Contact us online or call 800-551-3292 to schedule your free consultation to learn what happens when you file bankruptcy.