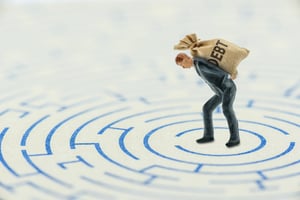 One of the most important parts of filing a bankruptcy is the ability to get rid, or discharge your debts.
If you file for bankruptcy, you have to disclose all of your assets (you may have to surrender some assets or you may not lose anything) and at the conclusion of your bankruptcy, your liability for those debts is gone. But are all of your debts discharged? Commonly, your credit cards and medical bills are dischargeable. However, there are non-dischargeable debts, which means your liability for these certain debts will remain. For example, taxes, child support or alimony, student loans, fines owed to government agencies, criminal restitution and personal injuries caused by intoxication using alcohol or drugs while operating a vehicle will not be discharged if you file for bankruptcy.
There are even exceptions to typical debts, such as your credit cards. For example, if you bought airplane tickets to a trip to Paris, France, and stayed at a five star hotel, and then later filed for a bankruptcy a month, that credit card company would most likely object to any amount tied to that trip. They would bring this issue before a judge, where they would most likely agree with the credit card company, and you would still be liable for that debt after your bankruptcy is completed.
Further, even if all your debts consist of credit cards and outstanding medical bills, a bankruptcy court may reject or deny your discharge if you failed to disclose all of your assets or lie in your petition and schedules.
CALL NOW FOR A FREE STRATEGY SESSION FROM A MN BANKRUPTCY LAWYER AT LIFEBACK LAW FIRM
So, if you have any questions about your debt and you're thinking of filing for bankruptcy, please reach out to Minnesota's nicest bankruptcy law firm by going to www.lifebacklaw.com. You won't regret it!