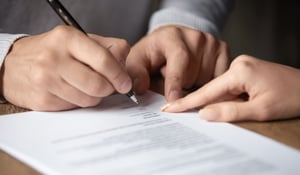 You've decided to file bankruptcy to get rid of your outstanding debt. But, you owe your parents money and don't want to include them in your bankruptcy. So, you decide to pay them back and then file. While your intentions are good, you've made a common mistake of making an insider preferential payment.
Insider Preferential Payment in Minnesota
What is an insider preferential payment? Under Section 547 of the Bankruptcy Code, a preference payment is a transfer of an interest: 1) "to or for the benefit of a creditor;" 2) for…[a] debt owed by the debtor…;" 3) "made while the debtor was insolvent;" and 4) made "on or within 90 days before the date of the filing of the petition; or between ninety days and one year before the date of the filing of the petition, if such creditor at the time of such transfer was an insider."
Defining an "Insider" in Minnesota
Who is an insider? Section 101(31) defines an insider as a "relative of the debtor or of a general partner of the debtor." In other words, a family member or a business partner.
What's an example? You've paid back your dad $100 a month for the past year, so you have to list that you've paid them back $1,200 within the past year in your bankruptcy schedules. After filing, a trustee will demand that $1,200 from your dad so that they can distribute equally among your other creditors.
Don't Pay a Relative Back - YET
How can you avoid this issue? The clear solution is to not back pay your relative before filing or list them as a creditor in your bankruptcy schedules, but make arrangements with them after your bankruptcy is completed. Or you may consider filing a chapter 13 where your trustee won't pursue legal actions against your relative, but you will have to consider that payment amount as part of how much you'll have to pay back in your overall chapter 13 plan.
What about revolving payments or paying a parent while you use their vehicle? In these cases, it may depend if the parent or relative is better off than when you started paying them back. So, a trustee or court may still consider these as preferential payments, or they may not.
CALL NOW FOR A FREE STRATEGY SESSION FROM A MN BANKRUPTCY LAWYER AT LIFEBACK LAW FIRM
If you've paid your relatives back, or you're in a situation similar to what you've just read, reach out to Minnesota's nicest bankruptcy law firm by calling us at 800-551-3292 or going to www.lifebacklaw.com. You won't regret it!