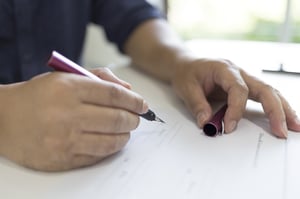 Many divorces today are accomplished by a default order and are never litigated. In fact, many individuals draft their own divorce decrees. While this may save you money on a divorce attorney it could end up costing you in your bankruptcy.
Section 523(a)(15) of the Bankruptcy Code states:
A discharge under section 727, 1141, 1192, 1228(a), 1228(b) or 1328(b) of this title does not discharge an individual debtor from any debt.
….
(15) to a spouse, former spouse, or a child of the debtor and not of the kind described in paragraph (5) that is incurred by the debtor in the course of a divorce or separation or in connection with a separation agreement, divorce decree or other order of a court of record, or a determination made in accordance with State or territorial law by a governmental unit…
What this provision means to a potential bankruptcy debtor is that if the debtor agrees to pay the joint martial debt in the divorce decree, that joint debt will not be discharged.
A "debt" under the Bankruptcy Code is a "liability on a claim" and a "claim" is a "right to payment…or…right to an equitable remedy for breach of performance if such breach gives rise, to a right to payment…."
When spouses are drafting their divorce decree, very often included in those decrees are a division of debts. This division of debt gives rise to the right to payment. This is debt incurred in the course of a divorce proceeding and it is nondischargeable under section 523(a)(15).
CALL NOW FOR A FREE STRATEGY SESSION FROM A MN BANKRUPTCY LAWYER AT KAIN & SCOTT
Before you agree to be responsible for all joint martial debt or any joint martial debt consider the far reaching implications of that responsibility. This is debt that could haunt you for years to come, even after a bankruptcy filing. Contact the attorneys at Kain and Scott and see us at www.kainscott.com. You will be glad you did!