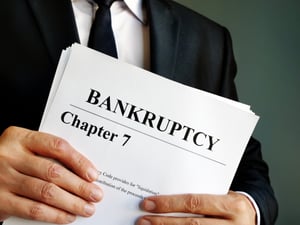 Not everyone qualifies to file a chapter 7 bankruptcy. In order to curb perceived abuse, Congress modified the Bankruptcy Code. On April 20, 2005, President Bush signed the Bankruptcy Abuse Prevention and Consumer Protection Act of 2005 (the "Act"). The Act was intended to address certain abuses of the bankruptcy process. Among the abuses identified by Congress was the easy access to chapter 7 liquidation proceedings by consumer debtors who, if required to file under chapter 13, could afford to pay some dividend to their unsecured creditors.
Under former section 707(b), a court was authorized to dismiss a case under chapter 7 if it found that granting the debtor relief thereunder "would be a substantial abuse of the provisions of the chapter." Former section 707(b) did not define substantial abuse, but left it to the courts to define the parameters of abusive filings.
Under new section 707(b) the court's discretion has been replaced with a mathematical formula (the means test). New section 707(b)(2)(A) instructs the court to presume that abuse exists if the debtor's income is over the median family income.
In general, "median family income" is defined as the median family income calculated and reported by the Bureau of Census in the then most recent year. If the debtor's annual income exceeds the median family income for similarly sized households in her state, then a presumption of abuse arises.
Under the means test, the debtor's current monthly income is calculated, and if the presumption of abuse arises, the court may dismiss the debtor's case or, with the debtor's consent, convert the case to a case under chapter 13. The debtor can overcome the presumption of abuse by demonstrating "special circumstances."
If there is sufficient disposable income available to fund a Chapter 13 plan, then seeking relief pursuant to Chapter 7 constitutes an abuse of the Chapter 7 provisions.
CALL NOW FOR A FREE STRATEGY SESSION FROM A MN BANKRUPTCY LAWYER AT LIFEBACK LAW FIRM
Not every chapter 7 case that has a presumption of abuse is dismissed or converted. There are special circumstances for chapter 7 case filings that may warrant a debtor remaining in a chapter 7 case despite the debtor exceeding means test. Contact the attorneys at LifeBackLaw and see us at www.LifeBackLaw.com and let us help you get your life back.