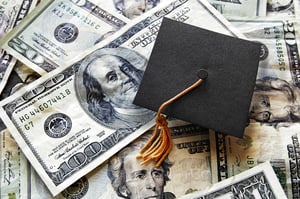 Student loans continue to be an issue for many Americans. The pending litigation surrounding the loan forgiveness of the Biden Administration is being watched carefully for those that may be eligible for loan forgiveness.
And while the standard for the discharge of student loan debts in a bankruptcy is changing, it is likely still not a dischargeable debt for many filers.
Section 523(a)(8)(B) provides that an educational loan is not dischargeable unless "excepting such debt from discharge . . . will impose an undue hardship on the debtor and the debtor's dependents." Congress excepted student loans from discharge in order to close what it deemed a loophole in the student loan program.
The policy of this provision was clear. Congress intended to prevent recent graduates who were beginning lucrative careers and wanted to escape their student loan obligation from doing so.
However, the clarity that is found in the legislative purpose and policy surrounding § 523(a)(8)(B) is decidedly absent in the meaning Congress ascribed to the term "undue hardship." The Bankruptcy Code does not define the phrase and courts have struggled with its meaning.
The court is evaluating many factors when determining the dischargability of the student loan debt: (1) the debtor's past, present, and reasonably reliable future financial resources; (2) a calculation of the debtor's and her dependent's reasonable necessary living expenses; and (3) any other relevant facts and circumstances surrounding each particular bankruptcy case.
If the debtor's reasonable future financial resources will sufficiently cover payment of the student loan debt-while still allowing for a minimal standard of living-then the debt should not be discharged. The debtor would also have to bring an adversary proceeding in their bankruptcy case to allow the court to make the determination on the student loan debt.
CALL NOW FOR A FREE STRATEGY SESSION FROM A MN BANKRUPTCY LAWYER AT LIFEBACK LAW FIRM
The student loan debt crisis continues to rage on, but the non-dischargability of the student loan debt remains intact, barring a separate determination by the bankruptcy court. Contact the attorneys at LifeBackLaw and see us at www.LifeBackLaw.com and let us help you get your life back.