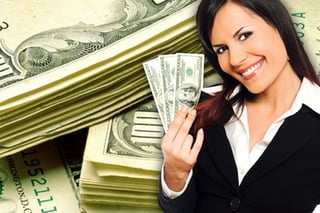 Payday loans have been in the news over the last week and prevalent in conversation among the MN Bankruptcy Attorneys at Kain & Scott. The Consumer Financial Protection Bureau has come out with a proposal to target payday loan lenders that trap consumers in long term debt. Payday loans are short term, high interest loans usually for less than $500 dollars that are paid back with your next paycheck. As internet payday lending has expanded so have the interest rates and fees. I often work with clients who have gotten into the cycle of payday lending.
CFPB Proposals
The CFPB proposals would extend consumer protections to short term loans such a payday loans and vehicle title loans. Short terms loans tout themselves as a quick one time way to get cash before your next payday. Instead, the reality is that it can be a never ending cycle of payday loans with high fees and higher interest rates, about an average annual rate of 390%.
This is the case because most people applying for payday loans are low income, don't work a salaried position with guaranteed hours, and are often behind on large bills such as rent and utilities. With pay fluctuating from paycheck to paycheck, by the next pay period, the loan can't be paid with what is in the bank and another payday loan is reissued. This starts the cycle that leads to a long term debt problem.
The proposals would prevent the lender from getting your bank account information in order to automatically draw out the payment on payday. One way to sink further into debt is to get stuck with NSF fees from your bank when the payday lender goes to collect and there isn't enough money in the bank to pay them. So now you owe on the defaulted payday loan as well as on NSF fees to your bank which can commonly be over $100 a pop.
The proposals would require the lender to do more research on the applicant to make sure the applicant could meet the loan obligations without compromising their financial future. Right now it is uncommon to have your credit report ran when a payday loan is issued. The proposal would require that the applicant have the ability to pay the full loan amount by the next pay period.
Payday Loan Statistics
As it stands about 80% of payday loans are reissued within the month. On average it takes 6 months to get out of the payday loan cycle with an average of $520 in just fees paid to the lender. This is for a loan most people think will be paid off within their next payday. The proposals would limit anyone trying to take out more than one payday loan in a 30 day time period.
At this point the proposals are in the early stages with nothing set to protect consumers from payday lending. Minnesota falls at about the middle of the road in terms of state regulations on the payday loan industry.
Payday Loans in Minnesota
The Office of the Minnesota Attorney General has helpful information to keep in mind if you are thinking you need a payday loan or you believe the payday loan you took out may be illegal. The information can be found here: http://www.ag.state.mn.us/consumer/publications/paydayloans.asp
Be especially careful with loans found on the internet. Internet payday lenders are the most problematic with hidden fees and higher interest rates than Minnesota law allows. They often try to evade state law by getting licensed in another state with lax laws or not getting licensed at all. In Minnesota the payday lender must be registered to do business in Minnesota. Make sure that the fees and interest rate on the loans do not exceed the allowable fees and rates under Minnesota law. The Attorney General's office has a chart, found at the link above that outlines the caps. No matter where the internet lender is from or registered to do business, as long as you are a resident of Minnesota, Minnesota law applies to the internet lender.
Hopefully in the future there is greater regulation in this area to prevent a small one time loan from ballooning into a large debt problem. Until then though bankruptcy could be a solution to a payday loan problem, especially if there are other types of debt as well to deal with such as credit card debt. Payday loan debt is a debt that can be included in either a Chapter 7 Bankruptcy or a Chapter 13 Bankruptcy filing. Whether the debt is still with the original payday lender or if it's gone to collections of even a judgment, the debt can be included in a bankruptcy and discharged.
If you are struggling with the cycle of payday loans and would like to discuss your options please feel free to contact one of our MN Bankruptcy Attorneys near you to find out more whether a bankruptcy might be right for your situation.
Brainerd Bankruptcy Attorneys MN - 218-822-3300
Eagan Bankruptcy Attorneys MN – 612-843-0525
Eden Prairie Bankruptcy Attorneys MN - 612-843-0524
Maple Grove Bankruptcy Attorneys MN - 612-843-0529
Minneapolis Bankruptcy Attorneys MN- 612-843-0527
Roseville Bankruptcy Attorneys MN - 612-843-0523
St Cloud Bankruptcy Attorneys MN - 320-252-0330
Woodbury Bankruptcy Attorneys MN - 612-843-0526