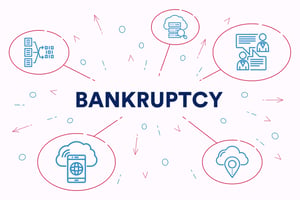 At LifeBack Law we file both chapter 7 and chapter 13 bankruptcy cases. A chapter 7 is referred to as a liquidation bankruptcy, where as a chapter 13 bankruptcy is a restructuring of your debt.
The timing of your bankruptcy discharge will depend on which chapter you file. With a chapter 7 bankruptcy you will receive your discharge roughly 90 days after filing. For a chapter 13 your discharge date will be three to five years after your case was filed.
There is typically only one hearing you will attend in both chapter 7 and chapter 13 cases, this is the 341 hearing. This hearing generally takes less than 10 minutes and you will meet with the bankruptcy trustee. The trustee will go through questions to verify your case information. An attorney from LifeBack Law will be with you during the hearing.
Throughout the chapter 13 bankruptcy there will be other hearings you most likely will not attend. The confirmation hearing will be sometime after your 341 hearing. Confirmation hearings take place to confirm your chapter 13 plan. The plan is set up to provide not only what you will pay monthly, but also how the bankruptcy trustee will disburse the funds. Other common hearings in chapter 13 cases are motions for post-confirmation plan modifications. This type of hearing will happen if you modify your bankruptcy plan post-confirmation.
When your discharge has been granted, LifeBack Law has a 90 day free credit repair program. This program applies to both chapter 7 and chapter 13 cases. During this time, we can provide information on improving your credit, disputing post-bankruptcy credit report errors, and removing judgments.
CALL NOW FOR A FREE STRATEGY SESSION FROM A MN BANKRUPTCY LAWYER AT LIFEBACK LAW FIRM
If you have any questions regarding bankruptcy and whether it is the right solution for you and your financial situation, visit www.lifebacklaw.com to speak with an attorney today. You will be glad you did!