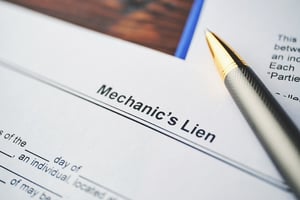 In Minnesota, contractors, laborers and material suppliers are entitled to file a mechanics' lien against real estate they have "improved" – by constructing, remodeling or repairing structures on the property – and for which the property owner has not paid. Filing bankruptcy before or after a mechanics lien can cause different scenarios.
A "Cloud" on Title in Minnesota
The mechanics lien creates a "cloud" on title that prevents the property owner from selling the property without first paying the lien in full. And if payment isn't forthcoming, the unpaid contractor can foreclose on the lien by selling the real estate at a sheriff's sale in order to receive payment. It's a powerful collection tool.
There is a detailed process set out in Minnesota Statutes that has to be followed to the letter in order for the unpaid contractor to "perfect" the mechanics' lien – that is, position the property to be sold at the auction if the lien isn't paid.
Can Filing Bankruptcy Stop a Mechanics Lien?
So what happens if, prior to the mechanics' lien being filed, the property owner files a bankruptcy case? If the bankruptcy case is filed prior to the lien being filed, does that mean the property owner will not have to pay?
The answer is no, the lien, even if it has not yet been filed, can still be filed against the property and the property owner/bankruptcy debtor will run a risk of having the property foreclosed after the bankruptcy discharge is entered. The reason is that the lien "attaches" to the property when the contractor/laborer/material supplier does the work or provides the material – so even if the lien is not perfected by filing the notice of the mechanics lien, the lien is still "there" and it has to be dealt with the same way that car loans and home mortgages – other types of liens – are dealt with.
Mechanics Lien on Chapter 7 and Chapter 13 in MN
In a chapter 7 case, that means that the bankruptcy debtor needs to make sure that the contractor is paid prior to receiving his discharge to eliminate the possibility of foreclosure. In a chapter 13 case, the debtor can propose to make payments to the contractor to pay the lien over a period of months through the chapter 13 plan payments.
CALL NOW FOR A FREE STRATEGY SESSION FROM A MN BANKRUPTCY LAWYER AT KAIN & SCOTT
The lawyers at Kain & Scott can help property owners who find themselves in this position. Find us at www.kainscott.com if you want to learn more.