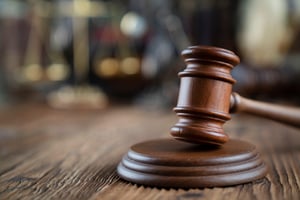 When a creditor has failed to obtain payments from the debtor, the creditor may sell the debt to a debt collector. If the debt collector or creditor is still unable to collect on the debt they may employ a law firm to pursue the debt through a lawsuit. The initial start of the lawsuit begins with notice to the debtor that they are being sued.
The creditor must make the claim against the debtor in a complaint. In that complaint, the creditor must provide "a short and plain statement of the claim showing that the pleader is entitled to relief." Minn. R. Civ. P. 8.01. The creditor will describe why the debt is owed and why the creditor is entitled to relief and explain to the debtor for what they intend to ask of the court: their demand for judgment.
The creditor must also serve a summons in the manner described in Rule 4 of the Civil Procedures. The summons must warn the debtor that, unless he makes a timely appearance to defend against the complaint, a default judgment will be entered against him "for the relief demanded in the complaint." Minn. R. Civ. P. 4.01.
4.01 Summons; Form
The summons shall state the name of the court and the names of the parties, be subscribed by the plaintiff or by the plaintiff's attorney, give an address within the United States where the subscriber may be served in person and by mail, state the time within which these rules require the defendant to serve an answer, and notify the defendant that if the defendant fails to do so judgment by default will be rendered against the defendant for the relief demanded in the complaint.
The debtor then has a choice. He can choose to incur the expense of hiring an attorney and defending against the complaint. Or he can decide that, given the likelihood that he will be found liable on the debt, or the amount of damages being requested by the creditor is minimal, that he will not make an appearance, but will instead permit a default judgment to be entered against him.
CALL NOW FOR A FREE STRATEGY SESSION FROM A MN BANKRUPTCY LAWYER AT LIFEBACK LAW FIRM
A judge is understandably reluctant to enter judgment against a party who has never appeared before the judge and told the judge his or her side of the story. The Civil Rules are there to protect against unfair default judgments. However, there are times when a default judgment is necessary. If a default judgment has been entered against you, contact the attorneys at LifeBackLaw and see us at www.LifeBackLaw.com and let us help you get your life back.