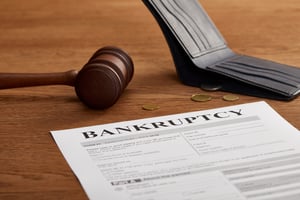 Bankruptcy has a wide variety of interesting facts. A few are listed below:
Your spouse doesn't have to file with you. Depending on your situation, it may be best if you and your spouse file a joint case, but they certainly do not have to file just because you do.
Most clients attend one hearing. Most bankruptcy filers only attend one hearing for chapter 7 and chapter 13 cases. This is the 341 hearing, which happens between 4 to 6 weeks after your case is filed.
You can file more than once. You can file a bankruptcy, even if you have previously filed. Whether or not you will receive a discharge will depend on the timing of your previous case filing to your new case and which chapter you filed. For example, to file two chapter 7 cases in a row, there has to be 8 years between filing dates.
There is no minimum debt amount to file. There is no minimum amount of debt you need to file bankruptcy, but there is a maximum to receive relief in a chapter 13. You are ineligible for chapter 13 bankruptcy relief if you owe $1,257,850 or more in secured debt or $419,275 or more in unsecured debt.
Bankruptcy protects you from collection efforts after the case is filed. Bankruptcy filings create an automatic stay, which stays your creditor's collection efforts. Therefore, your creditors have to stop collecting from you, after they receive notice of your case filing. Please note that not all of your creditors will receive notice that your case was filed the same date it is filed. The court notice is typically sent by mail.
CALL NOW FOR A FREE STRATEGY SESSION FROM A MN BANKRUPTCY LAWYER AT LIFEBACK LAW FIRM
For more information on bankruptcy and other interesting facts and topics, visit www.lifebacklaw.com to speak with an attorney today. You will be glad you did!