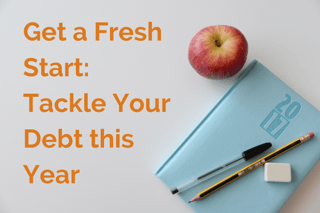 If you're struggling with overwhelming debt there's no better time than now to start searching for an Edina Bankruptcy Lawyer to help you get the debt relief you need and deserve through bankruptcy.
Debt does more than drain your bank account; with constant collections calls from creditors and the inability to obtain financing for the things your family needs, debt can create stress, worry, and instability in families. Having large amounts of unpaid debt also adversely affects your credit score, which impacts your ability to obtain loans or other financing.
That's why one of the best ways to get debt relief is by filing bankruptcy. With Chapter 7, you can erase your debt completely and easily without making any payments: once your debt is erased, you'll never have to worry about it again! Or, Chapter 13 can give you the opportunity to make affordable payments for 3-5 years and any debt that remains after that period will be wiped away. With either type of bankruptcy, you can erase your debts and stop the harassing calls from creditors fast!
So how do you find the Best Bankruptcy Lawyers in Edina? Not all bankruptcy law firms are the same and finding the right one for your family can be challenging – but it doesn't have to be! With a few quick keystrokes, you can find the Best Bankruptcy Lawyer Edina without leaving home:
6 Steps To Finding The Best Bankruptcy Lawyers And Attorneys In Edina, MN
Search on Google for the keyword "Edina Bankruptcy Lawyer"
Find a Bankruptcy Law Firm that doesn't have any negative reviews on Glassdoor.com
Find a Bankruptcy Attorney that has a 100% Money Back Guarantee
Contact the Law Firm and see if they have easy payment plans
Make sure the Lawyer ONLY does Bankruptcy
Choose a Firm that helps repair your credit too
When you've filtered through the results to pinpoint the kind of law firm you want—highly-reviewed, experienced, knowledgeable, affordable, and one that specializes in exclusively bankruptcy.
What Makes Kain & Scott Unique?
1. MN'S NICEST BANKRUPTCY LAW FIRM Guaranteed.
Our "A+" team of bankruptcy specialists can help you erase your debt fast, by filing for either Chapter 7 or Chapter 13 bankruptcy. At Kain & Scott, we understand that there are many reasons our clients fall behind on their bills: illness, death, injury, divorce, unemployment, and other unforeseen circumstances can take your family from financial stability to financial ruin faster than many can imagine. That's why at Kain & Scott, we pride ourselves on being Minnesota's Nicest Bankruptcy Law Firm and offering kind, competent representation to all of our Minnesota clients. Unlike other firms that may judge you for your bad luck, we don't judge you – we help you get your life back!
2. $0 Up Front. EASY PAYMENTS Plans.
We also understand that the last thing you need right now is another huge bill you can't afford. At Kain & Scott, we believe that filing for bankruptcy should give you a clean financial slate—not cause you to go even deeper in debt. That's why we offer our clients flat fees, affordable rates, a free initial consultation, and a 100% Money Back Guarantee!
3. Cases Filed In Days, Not Weeks.
Our law firm knows that one day in debt is one too many, and that you are anxious to erase your debt as quickly as possible. We complete your paperwork and get it filed within days to get your debts discharged faster than other firms. For a Chapter 7 bankruptcy, you can expect to be debt-free in as little as 90-120 days, while Chapter 13 requires a 3-5 year affordable repayment plan period before your debts are discharged. With either type of bankruptcy, you can erase decades of debt fast!
4. Chapter 7 & 13 Bankruptcy is all we do.
Kain & Scott is Edina's best bankruptcy law firm: our affordable rates, friendly service, and almost 50 years of experience makes us the bankruptcy specialists Minnesota residents can count on to get a fresh financial start. To find out more about how we can help you erase your debt fast, or to discover the benefits of our Free 90 Day Credit Repair Program, please sign up for a free bankruptcy consultation.