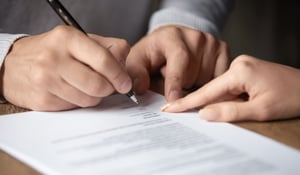 That is right; LifeBack Law's sole mission is to HELP you get your life back. We do this in two simple steps: Step 1, we HELP you eliminate debt. No worksheets to fill out and zero money up front on our fees (requires the use of a third party promissory note signer).
Second, we automatically enroll you in LifeBack Law's FREE 90-Day Credit Repair Course. In that course, we remove judgments for cost, we help you repair your credit reports, we enroll you in an on-line course to learn nuggets regarding future credit and repairing your credit profile, and we have an in-house credit repair specialist along with a list of Minnesota professionals who help you with auto and home financing.
Step 1 and Step 2= your life back! LifeBack Law clients are surprised to see just how strong their credit profiles are coming out of this process. Now I am a lawyer so I have to tell you, result vary, but the vast majority of LifeBack Law clients report strengthening their credit profile after this two-step process.
No other Minnesota law firm has this unique two-step process above. LifeBack Law is the only firm to have this system in place that has been refined for decades to make the process of getting your life back the most comforting and soothing to our guests as possible. We do most of the work while you relax! Behind the scenes, the LifeBack Law crew is doing most of the work and reaching out to our guests only when necessary.
CALL NOW FOR A FREE STRATEGY SESSION FROM A MN BANKRUPTCY LAWYER AT LIFEBACK LAW FIRM
When the time is right, or when you are ready to file Chapter 13 or Chapter 7, reach out to Minnesota's most kind and helpful bankruptcy law firm by going now to www.lifebacklaw.com. You will be so thankful you did.