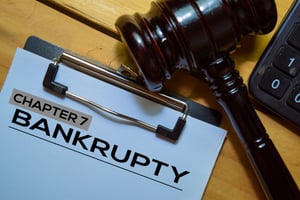 Generally, Chapter 7 debtors are entitled to a discharge of their pre-petition debts. However, some debts are excepted from discharge. 11 U.S.C. 523(a). Of those debts that are excepted, some are excepted from discharge as a matter of law, e.g., 11 U.S.C. § 523(a)(5) (domestic support obligations) and Section 523(a)(7) ) (fine, penalty, or forfeiture payable to a governmental unit).
Other debts are excepted only if a creditor files a timely adversary proceeding and proves the existence of specified bad acts. 11 U.S.C. § 523(a)(2) (fraud).
Creditors do need to be wary of pursuing debt after the debtor has filed a bankruptcy, even if they believe the debt was excepted from the debtor's discharge as a matter of law. For example 11 U.S.C. § 523(a)(3)(A): unscheduled debts are excepted from discharge "unless such unscheduled creditor had notice or actual knowledge of the case", for the creditor to prove they had no actual knowledge of the bankruptcy filing, may be difficult to prove. And the penalties for guessing incorrectly and then attempting to collect a discharged debt are severe. Further, in a no asset chapter 7 bankruptcy filing there is an argument to be made that a creditor was not harmed by being inadvertently omitted from the petition since no disbursements were made in the case.
The rules provide creditors, who are uncertain as to the applicability of the discharge as to their particular debt, a mechanism to resolve the question prior to seeking to collect a debt. Rule 4007(a) provides: "A debtor or any creditor may file a complaint to obtain a determination of the dischargeability of any debt." Fed.R.Bankr.P. 4007(a). Such an action may be filed "at any time." Fed.R.Bankr.P. 4007(b).
CALL NOW FOR A FREE STRATEGY SESSION FROM A MN BANKRUPTCY LAWYER AT LIFEBACK LAW FIRM
Although, a Chapter 7 bankruptcy is intended to provide debtors with a fresh start, some debts are excepted from discharged as a matter of law and some debts are excepted from discharge if the creditor proves the existence of the debtor's bad acts. Contact the attorneys at LifeBackLaw and see us at www.LifeBackLaw.com and let us help you get your life back.