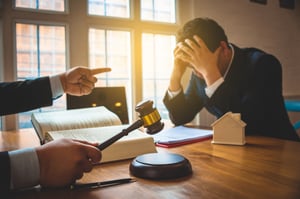 I can recall years ago attending a Chapter 7 Bankruptcy hearing. These hearings are like cattle calls where there are large numbers of debtors waiting to appear before a Chapter 7 Trustee who is responsible for administering your Chapter 7 Bankruptcy case. Typically, 4-6 hearings are held each half hour.
One day, while attending these Chapter 7 hearings and waiting for my client's case to be called, I remember seeing a couple come out of the Chapter 7 hearing room looking like a deer in the headlights; except far more frightened. It turns out they thought it was a wise idea to file Chapter 7 Bankruptcy themselves. They thought wrong. They thought they were saving money by doing it themselves. In the end, it cost them far more money. Why? Because I took pity on them and reviewed their schedules.
Their schedules were such a mess that to undo all the problems we needed to amend almost all the schedules. We needed to back up and start over and undo everything they had done. I had to charge them more money to get this done because it was such a mess. Plus, had they sought the advice of a competent bankruptcy counsel before filing the bankruptcy they would not have cost themselves money in the end by making transfers they should not have, and payments to family they should not have, and failed to disclose assets.
Because this experience was so awful, I do not take on cases like this anymore. If you file Chapter 7 Bankruptcy, and need help like these people did, you may find yourself without any attorney willing to undo the tangled web weaved. Folks, investing a bankruptcy lawyer saves you money and heartache. If the idea of bankruptcy is to get rid of a lot of debt, don't you owe it to yourself to invest some capital to get it done right the first time?
CALL NOW FOR A FREE STRATEGY SESSION FROM A MN BANKRUPTCY LAWYER AT LIFEBACK LAW FIRM
When the time is right, when you are ready to get your life back, reach out to Minnesota's most kind and helpful bankruptcy law firm by going now to www.lifebacklaw.com. You will be so thankful you did.