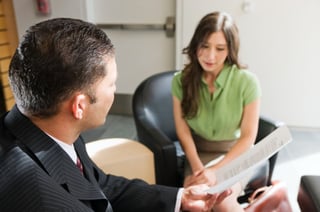 Many people continue to struggle for years with overwhelming debt because of the negative stigma surrounding Bankruptcy. At Kain & Scott our MN Bankruptcy Lawyers speak with clients every day that have one regret - they wish they would have filed sooner!
It is important to know that Bankruptcy is a government sponsored program specifically designed to provide Minnesotans with the opportunity to recover from an unexpected or overwhelming debt problem. Your creditors are aware of the protections provided by a bankruptcy and they are fully prepared to comply with law (in most cases).
When you find yourself suffering from overwhelming debt we encourage you to consult with a MN Bankruptcy Lawyer so that you that you get your life back, rather than continuing to struggle – emotionally and financially.
Bankruptcy Is Good For Your Mental Health
At Kain & Scott, more often than not, our clients come to us with high levels of stress and emotional strain. They don't know what to do, they can't sleep and just want the nightmare to end. However, they are under the impression that filing bankruptcy with a professional law firm is costly and think it might be a better idea to try and file on their own.
This is simply not the case. At the Kain & Scott Bankruptcy Law Firms in Minnesota we believe in providing affordable help to any one that is struggling. Let me re-emphasize the word, ANYONE. If you can't afford to get out of debt we will work with you to develop an easy payment plan that works with any budget. Plus, if you need we offer $0 Up Front on our lawyer fees.
Filing bankruptcy on your own can be very difficult, taxing and time consuming. And, because a non-lawyer is attempting to comply with the complex requirements connected with a bankruptcy filing, it often leads to more stress and emotional strain. A lot of times we don't think about the connection between our debt problems and mental health but there is a strong correlation between the two.
One of the major benefits to consulting with a MN Bankruptcy Lawyer sooner rather than later is completely eliminating that stress and strain. At Kain & Scott, one of the best parts of our job is helping people get their lives back. The moment you leave our office you will feel calm again. You'll know you're in good hands.
Bankruptcy Makes It Easier to Get a Home Mortgage
Bankruptcy can be a powerful tool to help us achieve our financial goals when filed properly. At Kain & Scott our MN Bankruptcy Lawyers speak with clients everyday who are worried about their ability to purchase a home in the future with a bankruptcy on their record.
However, believe it or not filing Bankruptcy can actually improve your credit and help to obtain financing for your new home a lot easier in the future. If homeownership is your goal after bankruptcy, you'll be happy to know that after filing because you won't have any outstanding debts lenders will want to lend to you. And while for most clients there is a waiting period after a bankruptcy case is over before the client is qualified for mortgage financing, once qualified, clients find the terms of the mortgage close to, if not at, market rate.
By continuing to struggle with your overwhelming debt and not resolve it you're allowing debt to deteriorate your credit and make it continue to work against rather than for you. When suffering with overwhelming debt, filing bankruptcy is a more practical solution to obtaining a new home mortgage.
We Do Most of The Work For You
There are many competing lawyers throughout Minnesota that claim to offer affordable bankruptcy options to consumers. However, beware that less attorney expense means putting much of the workload on the client. At Kain & Scott we are never going to dump a big pile of forms on your lap and make you do most the work. In fact, we assure that our clients are able to relax and enjoy more time with their friends and family rather than worry about filing the bankruptcy. Our MN Bankruptcy Lawyers will help you every step of the way so that you never feel overwhelmed.
Contact A MN Bankruptcy Lawyer
Contact the MN Bankruptcy Lawyers at Kain & Scott today for a free, no-obligation bankruptcy consultation today. We'll start by taking a close look at your financial obligations and share with you options to resolve your debts and meet your specific needs and future goals.
Kain & Scott is Minnesota's nicest Bankruptcy Law Firm Guaranteed. We earned this reputation by providing the personal attention that our clients want and need. Contact one of our 8 professional and convenient Minnesota locations today, we'd be happy to help. We are eager to help you get your life back!