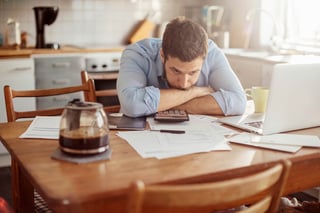 Wondering where to file for bankruptcy in Duluth, Minnesota? Envisioning a cramped dimly-lit office with an anonymous attorney frowning at your paperwork, while you fret, embarrassed, over the amount of your debt?
Traditional bankruptcy filing requires hours of paperwork and the process of finding an attorney, filling out forms, being trapped in stuffy waiting rooms, and playing phone tag with creditors, can take over your life. Who has time for that? Don't you wish there was an easier way to file bankruptcy in Minnesota where you controlled the process, instead of the process controlling you?
Take control of your bankruptcy with Kain & Scott
At Kain & Scott, we understand that being in debt can happen to anyone. That's why we don't judge you – we help you get your life back! Our firm also understands that our clients lead busy lives and want to file for bankruptcy in a way that is fast, easy, and convenient. That's why we offer our clients three quick and easy ways to file for bankruptcy in Duluth without ever leaving the couch! With Kain & Scott, you can choose the quick debt resolution option that works best for your Minnesota bankruptcy, by filing:
Online via Phone, Skype, Facetime with the help of a Lawyer that ONLY does bankruptcy
From the comfort of your own home using your mobile phone, tablet or computer
Any place we can mail all of the worksheets we've filled out for you to sign and return
You can take control of your financial future with the help of an experienced Duluth Bankruptcy Attorney without the hassle of filing in-person, getting stuck in traffic, or waiting for hours in a law firm waiting room. At Kain & Scott, we do the hard work for you – just sit back, relax, and let our top-rated bankruptcy attorneys get your debt erased fast!
Kain & Scott offers fast, friendly, and convenient Minnesota bankruptcy filing
With other law firms, you may have to wait weeks for an appointment, only to meet with an attorney who is inexperienced with Minnesota bankruptcy. Even worse, at some law firms your bankruptcy paperwork will sit collecting dust while you continue to struggle with your debt, ignored and alone.
There's a better way to file for bankruptcy: our firm offers fast, friendly, and convenient Minnesota bankruptcy filing so you can get your life back sooner. We are Minnesota's leading bankruptcy firm for good reason. At Kain & Scott, bankruptcy isn't just what we do – it's all we do! Our knowledgeable staff will handle your bankruptcy with the compassion and professionalism that has helped us consistently rank as Minnesota's nicest bankruptcy law firm. Once your paperwork is complete, we file it within days – not weeks or months like other firms --- to get your discharge faster! We are also proud to now offer virtual bankruptcy filing so you can become debt-free on your schedule, at your leisure!
Our 4 step virtual process makes it easier than ever for you to file for bankruptcy at your own convenience from home:
Set up your free initial consultation via Phone, Skype or Facetime
Meet with our friendly staff to review and sign your bankruptcy petition via Skype, phone or Facetime
Attend a 341 meeting near you with one of our assistant lawyers
Sit back relax and get your discharge
Imagine being able to erase your debt without leaving your living room, in your pajamas, with a hot cup of coffee, relaxing with the knowledge that your financial freedom is being guaranteed by one of our top-notch Bankruptcy Lawyers. What a huge difference Kain & Scott's convenient virtual bankruptcy filing makes!
Stop worrying about your debt, and start erasing it with Kain & Scott!
If you're ready to take the fi2188224502rst step in filing your Duluth, Minnesota Bankruptcy, contact the experienced bankruptcy lawyers at Kain & Scott for fast, easy, and convenient bankruptcy filing today! Our staff will review your case, help you complete your paperwork, and get you started on the next phase of your life with friendly service and professionalism. Visit us online at www.kainscott.com to set up your free initial consultation, or call our office to talk to one of our friendly staff members at 218-822-4502.