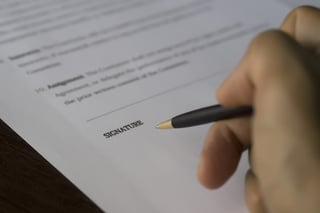 Lease agreements and executory contracts can either be assumed or rejected through Chapter 7 bankruptcy. Depending on your circumstances, you may wish to separate yourself from an existing lease agreement, or you may want to continue with your obligations after the bankruptcy. Through Chapter 7, you can choose to do either. In this blog we will look at various types of executory contracts and your options for each through Chapter 7.

First, however, let's discuss what a lease agreement/executory contract is. Of the various types, the most common executory contracts people are familiar with are rental leases and vehicle leases. Once entered into, you agree to make monthly payments for a set period of time. An "executory contract" is an agreement where one party has yet to perform their obligations under a mutually agreed to contract. Accordingly, lease agreements are a form of executory contract because there is an obligation for the tenant to continue making payments for a set period of time, per the agreed to terms.
Below is an explanation of the two options for handling executory contracts through a Chapter 7 bankruptcy. Then, there is a short discussion on the process for filing Chapter 7. As always, if you have additional questions after reading this, please give one of our MN Bankruptcy Attorneys a call. We're always willing to help.
Options: Assume or Reject
There are two options when it comes to executory contracts in bankruptcy. The contract may either be assumed or it may be rejected. Both the debtor and the Trustee can exercise these rights as it pertains to the contract. "Assuming the contract" simply means the original terms of the contract will remain in force after the bankruptcy. In contrast, "rejecting the contract" means the debtor and/or the Trustee may terminate the contract, as-is. Debtors who file bankruptcy will likely assume the lease agreement when it is for a vehicle lease they wish to keep or an apartment lease they wish to remain obligated to. Generally, the Trustee will not assume an executory contract unless it is likely to produce income for the estate.
We commonly come across the debtor who has an apartment lease as a tenant or a vehicle lease as a consumer. Since these almost never generate income for the estate, the Trustee does not involve himself/herself with these contracts. However, if the debtor has an executory contract as a landlord, the Trustee may stand in the shoes of the debtor to control the asset. This is beneficial if income can be produced from the executory contract and the debtor's creditors can receive money from the estate to satisfy debts which would otherwise be discharged.
Majority of the time executory contracts are viewed as more of a liability than an asset. As such, the Trustee is likely to reject the contract. Ultimately the question on whether or not a Trustee is likely to assume or reject an executory contract comes down to whether or not they can generate money for the estate by assuming the contract.
Rejecting an executory contract has many benefits for the debtor who needs financial relief. Rejecting an executory contract allows a debtor to separate themselves from these obligations. For example, if a debtor is behind on their monthly rent payments, and can unlikely afford future rent payments, rejecting the lease agreement in a Chapter 7 will allow the debtor to step away from the existing lease agreement with few repercussions for doing so.
Rejecting an executory contract can also be beneficial to the debtor who has a vehicle lease agreement. If you fall behind on your vehicle lease payments, and plan to return the vehicle to the dealership, bankruptcy may give you extra time to continue driving the vehicle without making payments. Once your bankruptcy case is filed, the Trustee generally has sixty (60) days to either assume or reject the lease. If you elect to reject the lease, the Trustee will likely soon follow, but the dealership cannot repossess the vehicle until the Trustee files their election with the court. Until such time, you can continue driving the vehicle without making payments.
Process for Filing a Chapter 7
Good news! You've already accomplished the first step in filing a Chapter 7. Doing research on your own is a great way to get information on your specific questions. It's important to take time and research the various options for bankruptcy relief. Just like anything, however, information contained on the internet may not always be 100% accurate. Plus, bankruptcy laws change quite often, so it's a good idea to follow-up on your research by consulting with an experienced bankruptcy attorney.
We offer free initial consultations. The initial consultation generally takes between 45 minutes to an hour and provides a great opportunity for you to interview our office. After all, not only are you visiting with us to get answers, but you're visiting with us to find out if we're the right fit for you. During this initial consultation we'll spend some time getting to know one another. We will ask you a bunch of questions to get a better understanding of where you're coming from. Then, after getting to know more about you, we will provide you with our professional recommendation.
After meeting with us, if you decide bankruptcy is a good option, we will set the expectations for what's to come. There are only two additional meeting that you have to attend, and there will be very little (emphasis added) homework. We will ask you to gather a few documents, but not many. Our goal is to reduce your stress level and start moving you in the direction of getting your life back.
Thank you for taking the time to read this blog and congratulations on dedicating yourself to finding more information about bankruptcy. If you feel like you're ready to schedule an initial consultation, please give us a call. We can have our first meeting over the phone, in person, or via Skype/Facetime. Just let us know what works for you.