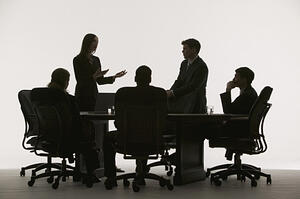 A chapter 13 trustee will be assigned to your case when you file for bankruptcy. Think of the chapter 13 trustee's role in your bankruptcy case similar to the role an account manager plays. This individual is appointed by the court and will manage your case from the beginning, through your entire repayment plan, at which time you will receive a discharge.
Case Filing
The chapter 13 trustee begins by reviewing your petition. All of the forms you complete and submit will be analyzed for truthfulness, accuracy and completion while your repayment plan will be reviewed for fairness, ensuring your plan is fair to each of your creditors.
Your trustee may ask for additional information or may raise objections to your repayment plan, expenses, exemptions and more. It is the trustee's responsibility to make sure your unsecured creditors are getting the highest possible payment from you.
If, during the initial review, you and your attorney are unable to reach an agreement with your case trustee, a judge will be brought in to make a final decision.
Meeting of Creditors
Within 30 days of filing, your trustee must set a 341 Meeting of Creditors, inviting your creditors, your attorney and you to attend. Your attendance is required while your creditors and your attorney may decide whether or not they want to join. You will be placed under oath at this meeting, which is typically held at a local federal building. Your chapter 13 trustee will ask you questions about your case. Bankruptcy-Attorney.com lists these example questions:
Did you sign the original bankruptcy petition and the schedules?
Did you review the petition and schedules before you signed them?
Are the petition and schedules true and correct, to the best of your knowledge?
Did you list all of your assets?
Did you list all of your debts?
Is there anything in the petition or schedules that needs to be amended?
Do you have the right to sue anyone for anything, such as an auto accident, wrongful termination from employment, slip and fall, or otherwise?
Do you own any real estate in any other state or country?
Do you expect to inherit any property within the near future, or have you inherited any property since the date of the bankruptcy petition?
Has your employment situation changed since the filing of the case?
Case Management
As your case progresses through the court and when your repayment plan is approved, your chapter 13 trustee will continue to play a role. You will make payments, according to your repayment plan, to the chapter 13 trustee assigned to your case. From this point on, your trustee is responsible for tracking and distributing the funds to your creditors accordingly.
Who Can Become a Trustee?
According to Bankruptcy-Attorney.com, a bankruptcy trustee is usually someone who is, or was, a lawyer/attorney, accountant, real estate broker or involved in the financial services industry. They must also meet the following requirements:
Pass a 5-year background check, including a fingerprint check, a tax check with the IRS, and a review of credit history;
Have strong financial, administrative, and interpersonal skills;
Be able to obtain a fidelity bond to ensure the faithful performance of duties;
Have integrity and good character;
Be physically and mentally able to perform the trustee's duties;
Be courteous and accessible to all parties in the case;
Be free of prejudices and act as trustee in an unbiased manner;
Not have a relative in the U.S. Trustee's Office in that district within the third degree of consanguinity (first cousin); and
Be at least one of the following: a lawyer in good standing in any state or the District of Columbia; a certified public accountant; a college graduate with a business major, or with an advanced business degree; a law student or MBA candidate working for a qualified professor; or, a person with equivalent experience to the foregoing, as determined by the U.S. Trustee's Office.
Each district has a panel of bankruptcy trustees with these qualifications prepared to take your bankruptcy case. It is important to work with a bankruptcy attorney when filing a chapter 13 because you will have someone on your side with similar qualifications as the chapter 13 trustee, who is on the court's and your creditor's side. This, in sports terminology, levels the playing field.
Learn more about the bankruptcy process by downloading our free Debt Solutions 101 eBook.