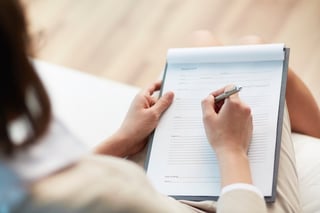 Are you putting off filing bankruptcy because you believe that the process is too complicated, too time-consuming, or too expensive? If these beliefs are preventing you from receiving the debt relief you need, please let us help. Our experienced bankruptcy attorneys will explain the bankruptcy process and tell you what you need to file bankruptcy. When we finish your bankruptcy consultation, you will have a much better understanding why filing bankruptcy is not as complicated, time-consuming, or costly as you have read or heard.
We Streamline the Bankruptcy Filing Process
We understand that your time is valuable and you simply want to get your bankruptcy case filed and behind you. Therefore, our attorneys have worked hard to streamline the filing process in our office to ensure that you spend as little time possible gathering documents and meeting with staff to file your bankruptcy case.
During your free bankruptcy consultation, one of our attorneys will meet with you to discuss your unique financial situation. He will provide you with your bankruptcy options in addition to any alternatives to filing bankruptcy, and discuss the pros and cons of each option.
After meeting with our attorney, if you choose to file bankruptcy, we will not send you home with a huge packet of forms to fill out and bring back. You will meet with one of our friendly and efficient assistants to sign the forms to retain our law firm. Our assistant will review forms with you and help you fill out those forms right then.
Documents the Bankruptcy Court Requires
We will require some documents to file your bankruptcy case; however, our assistant provides you with a short list and, if we can obtain the document for you, that item is not included on your list. We want to take as much stress away from you as possible and we want you to do as little of the actual work to file bankruptcy as possible — that is why we are here!
Our assistant schedules a second appointment that we refer to as the "Review and Sign Appointment." When you return to our office, an assistant will review each page of your bankruptcy petition and schedules to ensure that the information is complete and correct. Your bankruptcy attorney will perform a second review of each page with you to double check and answer any questions you may have about the forms or the information contained in the forms.
After your petition and schedules are reviewed and signed, our staff will file your bankruptcy case and provide you with your case number. Your creditors must cease all attempts to collect debts such as foreclosures, repossessions, garnishments, levies, collection lawsuits, and other collection attempts.
What Other Documents Do I Need to File Bankruptcy?
The documents we need to file your bankruptcy will depend on the chapter of bankruptcy you are filing and your specific financial situation. All debtors must provide the court with copies of pay advices or proof of income for six months prior to filing. We must also have your federal and state tax returns for the most recently filed tax year.
In addition to these required documents, we may ask you to provide:
Copies of lawsuits, judgments, levies, or other liens
Copies of titles to real or personal property
A copy of your lease or mortgage
Recent bank statement
Copy of most recent statement for debts not reflected on your credit reports
Divorce decree and domestic support orders
A legal description of any real estate you own
List of business assets
The above documents may or may not apply in your case; however, we will do everything within our power to access the information we need without burdening you with locating and providing copies of documents. Unfortunately, it is impossible to know what documents you may need to file bankruptcy until you meet with one of our attorneys and staff members.
You can rest assured that our assistants and our attorneys want to reduce your level of stress. By doing the bulk of the work for you to file a bankruptcy case, we reduce your stress and we allow you to get back to more important things — enjoying your life, your family, and your friends.