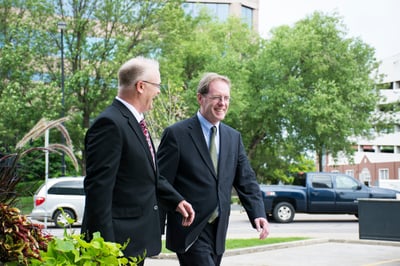 Are you considering filing a bankruptcy to solve your debt problems but you have heard from friends, family members, co-workers and others that bankruptcy attorneys can be difficult, harsh, and somewhat coldhearted? If so, we want to introduce you to our way of doing business as a bankruptcy law firm…
Our top priority is you — our client. The first and foremost rule in our office is that we are "Minnesota Nice" to our clients and to anyone we do business with, both inside and outside of our law firm. We simply do not believe that you must be gruff, harsh, or mean to be an honest, candid legal advocate for your client.
We also do not believe in making our client do all of the work to file their bankruptcy petition, because that is why the client has come to us. We are here to HELP our clients! We are not here to add additional stress, frustration, and anxiety to an already tense situation. So what is it that makes Kain & Scott your "Minnesota Nice" bankruptcy law firm?
Kain & Scott P.A. is the Definition of "Minnesota Nice"
Unlike other Minnesota bankruptcy attorneys, we HELP you every step of the way. We help you by:
Completing the Bankruptcy Forms
We understand you have already been through a great deal and you are under an enormous amount of stress. We won't add to this stress by leaving you alone to do the paperwork – we will fill out the paperwork for you. Your attorney reviews each page of your bankruptcy petition and forms to ensure the information is accurate, and then our staff files all of the necessary forms with the court to get you the bankruptcy protection you need.
Pulling Your Credit Report
We pull your credit report for you so you don't have to. Our staff takes care of this step for you so that you do not need to worry whether every creditor on your credit report is included in your bankruptcy filing.
Offering Easy Payment Plans
We offer $0 money down on our fees and easy payment plans. Our attorneys understand that money is tight right now — that is why you need bankruptcy help. We do not want to add pressure or stress to an already difficult situation by demanding you pay hundreds or even thousands of dollars down to get the bankruptcy help that you need. Our easy payment plans provide our clients with the bankruptcy relief they need right now so that they can get protection from their creditors and protect their wages and assets from being garnished or seized. Not all bankruptcy law firms offer easy payment plans and $0 money down on fees. Again, this is another reason to hire a "Minnesota Nice" bankruptcy law firm.
Follow-up After Your Case Is Closed
After your bankruptcy case is completed, we give you a Free Advice for Life card. This card entitles you to one 15-minute phone call with a lawyer every month for the rest of your life, on any topic! Many law firms do not want to take the time to answer questions or address concerns once your bankruptcy case is closed because they are not being "paid" for that time. Our attorneys value you as a person and consider you a client even after your bankruptcy case is closed.
Receive More Information About Bankruptcy and Request a Free Bankruptcy Consultation
Are you looking for a Minnesota bankruptcy firm that cares about its clients and works in their best interest? If so, we encourage you to schedule a free bankruptcy consultation with Kain & Scott, P.A. Our experienced bankruptcy attorneys discuss all available consumer debt solutions to help you reach a decision that is in your best interest. Your best interest is our number one priority.