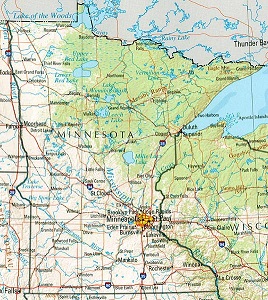 If you are facing a serious surgery, would you be willing to drive an extra hour or two to have one of the best surgeons in Minnesota perform it? Of course you would! Maintaining your health is one of the most important things that you can do for yourself. Not only is your physical health important, but your financial health is as well. The Minnesota bankruptcy attorneys of Kain & Scott, P.A. help individuals throughout Minnesota in addition to the St. Cloud, Brainard and surrounding communities get their financial health back on track.
If you do not live in the St. Cloud or Brainard area, we offer many different convenient options for your initial bankruptcy consultation. Based on your preference, you can choose to have your initial consultation by phone, using video conferencing, or face-to-face in our office. When it comes to actually filing your bankruptcy case, the drive to our office is well worth the investment you will be making in your future as you are taking a positive step on the road to a debt-free future. Debt relief is an excellent trade-off for driving a distance to meet with an experienced bankruptcy attorney who will always put their client's best interests first. Regardless of where you live, if you need a Minnesota bankruptcy attorney, Kain & Scott, P.A. is here to help you get your life back.
Advantages of Hiring Our Firm as Your Minnesota Bankruptcy Attorney
Yes, you may need to drive a little farther, but there are several advantages of hiring Kain & Scott, P.A. to represent you in your bankruptcy case.
Bankruptcy is all that we do. Our attorneys do not attempt to practice several areas of law. We focus our entire firm on our bankruptcy practice. Attorneys who try to "dabble" in bankruptcy law while they work in other areas of law may not be as well-versed in the complexities of protecting your assets while discharging as much of your debt as legally possible.
We believe in working with you and for you. Most Minnesota bankruptcy law firms give their clients a thick packet of "homework" (i.e. worksheets) that the client must complete and return to the attorney's office with a stack of documents that the client has to gather for the attorney. Our office is different. Our staff will help you fill out the necessary forms so that you can get back to something far more important – your family.
We file bankruptcy cases in days, not months. Once you make the decision to file a bankruptcy case, we understand that you are ready to get it over with so that you can get back to your life. Our office works quickly to file cases in days, not weeks or months as other law firms. That alone is worth the extra driving time to hire our firm. Because we file your case within in a short period of time, you should only need to come to our office a few times to get your case file.
Attorneys with experience. You should not trust your financial future to an attorney who does not have the experience or knowledge to protect your best interests. The attorneys of Kain & Scott, P.A. have over 47 years of combined bankruptcy experienced. We have handled thousands of bankruptcy cases to help individuals just like you get their lives back after suffering a financial crisis. If you would drive a greater distance to protect your health, you should do the same to protect your financial well-being.
Personal service. We believe that when you hire an attorney, you should get to see that attorney. The attorney that you meet with during your bankruptcy consultation will be your attorney throughout the entire bankruptcy process. Your attorney will meet with you to review your bankruptcy forms (not a paralegal as in many other firms) and answer all of your bankruptcy questions. That same attorney will also attend your court hearing with you.
Exceptional client service. As your Minnesota bankruptcy attorney, we are working for you. Our entire staff is trained to provide exceptional service to each of our clients. Our motto and promise is "we don't judge you, we help you get your life back!" We are not here to judge you or to question why you need bankruptcy help. We are here to give you that help so you can recover, rebuild and move forward.
Receiving advice from experienced, caring attorneys and receiving relief from overwhelming debt is worth the extra time it may take you to drive to our office. Your financial well-being is far too important to trust to just anyone.
Bankruptcy is not just what we do, it's ALL we do!
The bankruptcy attorneys here at Kain & Scott, P.A. focus our entire practice on bankruptcy. By focusing solely on bankruptcy, we optimize the bankruptcy process so that our clients receive the best bankruptcy advice possible. While we pride ourselves in filing your bankruptcy case in a timely manner, we will never rush you through the process or ignore quality for quantity. You receive personal service from our attorneys and our entire professional legal team.
To determine if filing bankruptcy is the best way to resolve your debt problems, sign up for a free bankruptcy consultation. Remember, you have the option to have this consultation either by phone, Skype, or in person. We will discuss all available consumer debt solutions to help you reach a decision that is in your best interest. For more information about what to expect during your bankruptcy consultation, download a copy of our free Bankruptcy Consultation eBook.