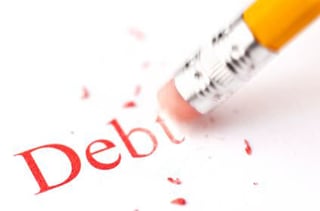 Declaring Chapter 7 Bankruptcy can be intimidating and stressful especially if you don't know exactly how the Bankruptcy Process works. Unfortunately, the pressures of society can make you feel like a failure often leaving you down in the dumps. As such, you worry about what your life is going to be like after you file, what's going to happen to your credit score, your house, the car you drive and most importantly the future of you and your family. However, remember bankruptcy can happen to anyone and you're not alone! There are plenty of advantages of hiring a Bankruptcy Attorney to help you get your life back!
1. You Get A "Fresh Start"
Chapter 7 also known as the, "Fresh Start" bankruptcy is a great solution for the person looking for a bankruptcy discharge to relieve them from overwhelming unsecured debt. Unsecured debt includes any department store cards, credit cards, utility bills, medical bills, some personal loans and pay day loans. When you work with an experienced Bankruptcy Attorney, approximately 90 to 120 days after filing, you'll receive a discharge and you will not have to worry about paying these debts again! Wouldn't that be nice? Exactly! That's why thousands of Minnesotans choose Chapter 7 Bankruptcy every year. It is one of the best ways to immediately eliminate unsecured debt and get back on the road to a debt-free life again!
2. No More Harassing Phone Calls!
Automatically after your Bankruptcy Attorney files your case with the U.S. Bankruptcy Court an order, known as a bankruptcy stay is issued by the court. The stay prohibits any credit or debt collection. This means there will be an end to any creditors or debt collectors calling you at all hours of the day harassing you for payments. No more threats to garnish your wages, steal your house or the car you drive. Chapter 7 is all about protecting you and your family, not your creditors! This way after filing you'll be able to focus on moving forward in your life without having to cringe every time you hear the phone ring.
3. Better Credit
Most people assume that filing bankruptcy is bad for your credit score. However, more often than not your score actually improves over time. There is no question that filing bankruptcy is a negative credit event but the catch is that after you file you will be completely debt free. There is nothing that the banking and credit industry loves more than someone who is completely debt free! This is because they know that you will be able to make payments. Time and time again my clients are shocked because they've received offers for loans or new credit cards shortly after filing.
GetTING Started
At first Bankruptcy might sound a scary, but isn't a life overwhelmed by debt and serious financial threats scarier? If you're in this position don't be scared; there's a solution to this – there's a way out. Debt problems can happen to anyone and for several reasons. Whether it's because of an income drop, business failure, divorce, break-up, medical debt or even a bad financial decision it doesn't really matter. What matters the most is a brighter future for you and your family. At Kain & Scott we promise there is a way to resolve your debt problems. With Chapter 7 you could be debt free in 120 days or less. Contact the Bankruptcy Attorneys at Kain & Scott today for a free, no-obligation bankruptcy consultation to learn more and let us help you get started on the road to a debt-free life again!