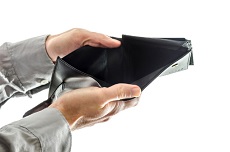 Eliminating debt can change your life forever, for the better. The load that is lifted off your shoulders is incredible. Those who go through bankruptcy say it best.
"I just wanted to express our very sincere thanks to you, for helping us through an extremely difficult time in our lives. Through following your guidance and expertise, we are now living a stable day to day life. We can go to bed at night and sleep. When we wake up in the morning we are not filled with dread and anxiety. We are happier now and looking forward to a brighter future."
Debt is not a pleasant experience and getting out of debt isn't a walk in the park. But there is hope. And contrary to common belief, bankruptcy can be a stress-relieving, life-regaining solution to fix your financial troubles.
Bankruptcy 101
Bankruptcy options can stop creditors from repossessing your property, foreclosing on your home, garnishing your wages and any other debt collection actions. It can also help you learn to manage your finances and avoid debt in the future; you will be required to attend credit counseling and complete, under chapter 13, a financial management course.
Filing for bankruptcy must be done in the state where you live. State bankruptcy laws vary, so you should consult legal counsel in the state where you will file. There are also timelines associated with your length of residence that align with the date you file. This timeline was set in place to prevent debtors from relocating to a state that will positively impact their filing.
Common Misconceptions
A major worry accompanying bankruptcy is public opinion. Due to the stigma surrounding bankruptcy, it is no wonder you assume your reputation will suffer. However, it is much more common than you think. Many bankruptcy filings go unnoticed, because if you file and choose to keep it private, no one else will know. The only people who will know if you file bankruptcy are those that you tell and your creditors. Bankruptcy filings are only published on the bankruptcy court website where, in order to find any information, a person will have to pay.
A negative effect on credit score often inhibits debtors from considering bankruptcy. A low credit score is often associated with bankruptcy because a notation will be listed on your credit report simply stating that you filed bankruptcy. Simply filing for bankruptcy does not negatively affect your credit score; chances are your credit score is already bad if you are seeking debt help, especially if you have been missing payments. Filing for bankruptcy is, in fact, the first step toward getting your finances back in your control which, in turn, will help you rebuild your credit score.
Also, contrary to common belief, you will not lose all of your possessions and you will be able to own possessions in the future, too. Most people who file don't lose anything, especially under chapter 13. And in the future, you will be able to own what you can afford. Although it has acquired a bit of a bad reputation over the years, in large thanks to media, filing bankruptcy is a debt solution that aims to make your life easier and more comfortable so you can get your financial situation back on track.
Personal Bankruptcy Options
There are two bankruptcy options available for individuals with mainly consumer debt (personal, family or household debt). Chapter 7 bankruptcy consists of selling your property in an effort to completely eliminate as many debts as possible. Chapter 13 on the other hand allows you to keep your property and enrolls you into a repayment plan you can afford. Which chapter you file will depend on your specific situation. Our next two blogs will dive deeper into Chapter 7 and Chapter 13 bankruptcy filings, so stay tuned to find out which is best for your financial situation.
Download our free eBook, "Debt Solutions 101" to learn more about bankruptcy and how it compares to the common debt consolidation options.