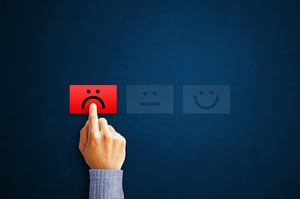 We live in a world where reviews matter. What people think of a business matters to those prospects who are looking at doing business with a merchant, law firm, or vendor. Unfortunately, there are law firms who insist on using software to game the reviews and make it appear as if the law firm has stronger Google and BBB reviews than they actually do. How is this done?
How & Why Other Firms Want to Game the System
Simple. A client or former client of a law firm receives and email or text prompting them to answer one single question, regarding their recent bankruptcy or other legal experience. The question is typically something like this: Would you recommend our law firm to a friend or family member? Simple right? So far it is but this is where the software likes to put their finger on the scale of making sure your reviews are better than worse.
You see, if you answer yes, you would recommend this law firm to another person, the recipient of this email or text is automatically sent to a Google Review platform (in this example) where you can leave presumably a great Google Review. However, if you click no, I would not recommend this law firm to another person, you are taken to a "private" channel to leave some remarks that might be seen by the law firm owner but no one else. And then, below the large comment box, is a place to click and leave a Google review. It is noticeably smaller so that you might just miss it altogether like I did the first time I saw it.
How Other Firms Bury Your Negative Review
And that is the whole point; to deter the unhappy client from leaving a bad Google review and to encourage the happy client to leave a Google review. When you click no, the page you are taken to has a large box for comments. First, the law firm is hoping when you first clicked no, you made your vote and you put your phone down thinking you registered your dissatisfaction. Second, if you happen to go to the private channel, you will see a large comment box right away and hopefully you will a) not fill it out or b) fill it out and that is it (this feedback goes only to the law firm owner not the public who never sees it).
This is deceptive to the prospect looking at the firm wondering if they should do business with them when the reviews are deceptively tilted toward the positive reviews and not negative feedback. Be very careful when you see numerous reviews in one day or numerous reviews in one day with little to no comments.
CALL NOW FOR A FREE STRATEGY SESSION FROM A MN BANKRUPTCY LAWYER AT KAIN & SCOTT
When the time is right, or when you are ready to get your life back, reach out to Minnesota's HIGHEST GOOGLE reviewed law firm (we use no review software at all) by going now to www.kainscott.com. You will be glad you did.