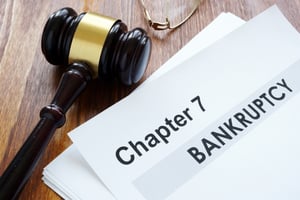 Life is so humbling. Your best plans can go awry, quickly. I mean, who among us hopes when you get married, your marriage will be a failure? Who among us wishes for our business venture to turn into a disaster? Who among us hopes for an extended illness that costs tens of thousands of dollars and leaves us off work without pay? Nobody does this. We humans make elaborate plans and dream big dreams, and we should. However, life does not always play out the way you had planned it. I have accepted this broken road.
Chapter 7 Bankruptcy is a re-set button on your life. It is a new beginning, a new life, a new adventure. That is why LifeBack Law Firm's mascot is a butterfly. Butterflies are beautiful but they came from a caterpillar and shed its ugly skin to become something wonderful, something new, something that takes flight! That is the same feeling you will have when you shed unwanted debt stemming from a bad relationship, bad business, medical problems, or just plain bad decisions. Hitting the Chapter 7 Bankruptcy button allows you to start a new life free of those debt shackles.
LifeBack Law Firm is in your neighborhood. We are a Chapter 7 Bankruptcy attorney near you in Eden Prairie, MN. We are located at 7525 Mitchell Road, Suite 208, Eden Prairie, MN 55344. Feel free to schedule an appointment at this location anytime by going to www.lifebacklaw.com or calling 800-551-3292 now. Hundreds of our Eden Prairie clients are getting their lives back now and so can you.
CALL NOW FOR A FREE STRATEGY SESSION FROM A MN BANKRUPTCY LAWYER AT LIFEBACK LAW FIRM
LifeBack Law Firm has been protecting Minnesotans from their creditors since 1972 and we can protect you too. Go now to www.lifebacklaw.com. You will be so thankful you did!