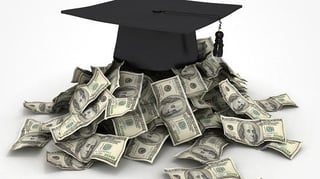 Are you one of the 44.2 million Americans with student loan debt? If so, you completely understand the enormous strain student loan debt causes to your financial well-being. For individuals between the ages of 20-30, the average monthly student loan payment is $351. $351 over the course of 12 months comes out to $4,212.
How Most Students Get Into Debt Problems
For most of us, the $4,212 paid over the course of a year covers interest alone. To make matters worse, while we pay the $4,212 in interest on our student loans, we continue to accrue additional interest on top of that. Unless you're enrolled in a specific repayment program, the average student loans for one borrower takes 21 years to pay back. After 21 year of paying the same $351/month listed above, the average borrower will have paid about $88,452; assuming every monthly payment is made on time, which statistically speaking doesn't happen.
Most 18 year old Americans pursue their dream of attending college without truly understanding the financial impact college will have. Despite the fact you're likely to be more competitive when interviewing for jobs because you have a college degree, the impact student loans have on you financially may not be worth it. But, good luck telling an 18 year old all of this and getting through to them.
If you've already attended school and incurred student loan debt, there are a few options to get out of having to pay back the loans. It is possible to have your student loans discharged through bankruptcy, but there are certain steps that need to be taken. More importantly, there are very specific requirements that must be met in order for the court to approve your bankruptcy discharge.
Determining Your Eligibility For Bankruptcy
Since you're reading this blog, you've already started the first step in the process - gather as much information as you can about your options. After all, if college taught you anything, knowledge is power. Your next step is to contact one of our MN Bankruptcy Attorneys to discuss how bankruptcy may be able to help you financially. We will conduct an initial consultation and discuss everything you're confronted with. There are a couple of options we will introduce you to. First, we will discuss the difference between a Chapter 7 and Chapter 13. Then, if bankruptcy is a good fit, we will discuss the process for requesting to have your student loans discharged. To have your student loans discharged in bankruptcy, you must file a Complaint to Determine Dischargeability with the Bankruptcy Court.
Discharging Student Loans
When filing a Complaint to Determine Dischargeability, you will have to prove your student loans are causing an under hardship. You might be thinking to yourself, no problem there. I'm broke, it's because of student loans, point proven. Well, it's a lot harder than that to prove undue hardship. When proving undue hardship in bankruptcy you must also successfully argue, among other things: an inability to maintain a minimal standard of living if forced to pay back the loans, the hardship will continue for the duration of your repayment period, and you made a good faith effort to pay back the loans before bankruptcy. If you are successful in proving the three elements above, your student loans may be discharged.
If the court determines your student loans may be discharged, your loans may either: be discharged in their entirety, partially, or you may be approved for a reduced interest rate. The determination is based on the totality of the circumstances and the overall hardship student loans cause to your financial posture. Unfortunately, discharging student loans through bankruptcy is very difficult. There is often a lot of time and expense involved because of the fight student loan companies put up to force people into paying back the loans. However, not all hope is lost. Chapter 13 bankruptcy may provide you the relief you need.
The Chapter 13 Bankruptcy Option
Chapter 13 Bankruptcy is an option many student loan borrowers choose. Chapter 13 is a government sponsored debt consolidation plan where you make monthly payments over a period of three to five years. During this time, your creditors are not allowed to collect from you. With that said, student loan companies cannot collect from you for failure to make payments. We do not recommend you stop making payments, but if you can't afford to make minimum payments, your creditors can't send you to collections for missed payments. If you choose to file a Chapter 13 Bankruptcy to get relief, you will not be forced to make your student loan payments until your receive your discharge. Typically, this is three to five years after filing. Arguably, it may be a good idea to at least pay interest on your loans so you're not in a worse spot financially after bankruptcy. Whatever you choose to do, Chapter 13 will protect you from student loan companies collecting against any amounts you owe.
There are a number of options available to help with student loans outside of bankruptcy. There are income-based repayment plans, temporary deferment and forbearance options, as well as additional options for service members. Contact your loan provider for more information.
If you're unable to reach repayment terms that are fair to you and your situation, we can always discuss your options in bankruptcy. We have many clients who choose to go through bankruptcy in order to get the relief they need from overwhelming student loans. Ultimately, the decision is yours. We'll give you the information needed to make an informed decision. If you choose to file bankruptcy, our team of experienced MN Bankruptcy Attorneys will walk you through the process and make sure your interests are protected.
Contact a MN Bankruptcy Attorney
At Kain & Scott, P.A. we're dedicated to helping our guests get their lives back. We help our guests by providing options and professional recommendations based on their situation. If bankruptcy is the best option, we help our guests through the entire process. If bankruptcy is not the best option, we point our clients towards other professionals who can help. When you're ready, please feel free to reach out. We're happy to help in any way possible.