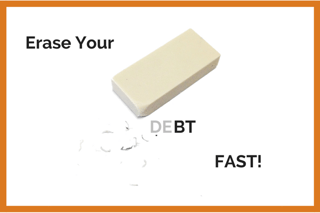 If you're serious about eliminating your debt and recharging your financial future, chances are you have heard of Chapter 7 Bankruptcy. Chapter 7 bankruptcy gives you a fresh start by erasing your debt fast and immediately stopping aggressive collections actions and calls from creditors that can cause stress and anxiety, negatively impacting your quality of life. Without your debt to hold you back or creditors to harass you night and day, you have the freedom to make the most of your fresh financial start.
What is Chapter 7 bankruptcy?
Chapter 7 Bankruptcy is a way to eliminate your unsecured debt—those debts that are not secured by collateral—using the legal system. Examples of unsecured debt include credit card debt, hospital bills, and retail store accounts. Although unsecured debt can come in many forms, Chapter 7 bankruptcy can eliminate them all. In as little as 60 – 90 days of filing your Chapter 7 bankruptcy petition, the entirety of your debt is forgiven. Once your debts are discharged, they are gone forever.
HOW CAN MINNESOTA RESIDENTS TAKE ADVANTAGE OF THE OPPORTUNITY TO WIPE AWAY THEIR UNPAID DEBT?
If you think Chapter 7 bankruptcy is a good option for your family, you can get started on your petition with the help of an experienced Minnesota bankruptcy law firm. With your financial future on the line, it's important to choose a bankruptcy law firm that specializes in bankruptcy: state and federal laws change frequently and can be extremely difficult to understand for those who do not have specialized legal knowledge.
In addition to specializing in bankruptcy, the law firm you choose should work hard for you by offering fast, affordable, and convenient services such as virtual bankruptcy filing from the comfort of your own home and easy flat-rate fees. And, when choosing the Best Minnesota Chapter 7 Bankruptcy Law Firm, reputation matters; a bankruptcy law firm without a proven track record of providing excellence in bankruptcy representation can put you at risk of having your petition thrown out by the court if done incorrectly or make filing for bankruptcy much harder on you than it should be.
When you file Chapter 7 bankruptcy, our Minnesota bankruptcy law firm can provide you with everything you need to make filing for bankruptcy a positive and rewarding experience; we complete and file your paperwork for you within days to get your debts discharged as fast as possible, without wasting your time or your money.
Minnesota's leading Chapter 7 bankruptcy law firm
For almost 50 years, the legal team at Kain & Scott has been helping Minnesota residents just like you erase their debt fast with Chapter 7 bankruptcy. As Minnesota's leading Chapter 7 bankruptcy law firm, our bankruptcy specialists have the experience, knowledge, and know-how to eliminate years of debt in just a few short months from filing your bankruptcy petition.
At Kain & Scott, we're not satisfied with just providing excellent bankruptcy representation; we pride ourselves on also being Minnesota's Nicest Bankruptcy Law Firm! Other bankruptcy law firms can treat you as just another case number but, at Kain & Scott, we understand that debt happens to everyone at some point in their life so we help you get your life back fast without judging you for falling behind on your bills.
Chapter 7 bankruptcy with Kain & Scott includes FREE 90 Day Credit Repair
If you are considering bankruptcy, it is likely that your credit score is lower than your ideal number. Without a solid credit score, lenders are less likely to approve you for financing, which can impact your ability to purchase and refinance items that your family needs. While bankruptcy is a great way to eliminate your debt, filing for Chapter 7 bankruptcy will not automatically repair your credit score.
With Kain & Scott, you can not only erase your debt but also repair your credit, fast! Our exclusive FREE 90 Day Credit Repair Program is designed to help you improve your credit score and obtain financing from Minnesota lenders you can trust.
Erase your debt today with the Minnesota bankruptcy specialists at Kain & Scott
Our team of bankruptcy specialists has the knowledge and the experience to get your debts discharged fast. To get started eliminating your debt with Chapter 7 bankruptcy, contact our office for your free initial consultation with one of our experienced and friendly legal staff. With just basic information about your income, assets, and debt, we can help you file for Chapter 7 bankruptcy from the comfort of your own home within days! With Minnesota's leading Chapter 7 bankruptcy law firm, Kain & Scott, you can be confident that you will receive the best in bankruptcy representation at an affordable price.