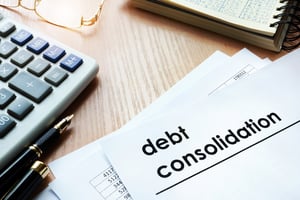 You got the headline right. If you live in Minneapolis, MN and you are thinking about debt consolidation vs bankruptcy, forget debt consolidation right now. I feel bad for people suffering with debt. I know you want to pay the debt, we all do. But, debt consolidation is a waste of time, energy, and money. First, who do you trust to help you with this? Many of the "debt consolidation" companies are owned by the credit card companies so who do you think they are there to help?
Not you. Second, who do you think gets paid first, the debt consolidation company or creditor? The debt consolidation company. Third, guess what creditors do when they receive less than what they want you to pay? They stop participating, sue you, and garnish your wages instead.
So many people have tried and failed at debt consolidation after enormous energy, time, and money has been spent on trying to avoid the "b"word. In the end, many of these folks file bankruptcy anyway and find out they have wasted precious time trying to avoid it.
The amazing thing about filing Chapter 7 Bankruptcy in Minneapolis, MN is you get your life back faster than debt consolidation. Debt is gone quicker and you start rebuilding quicker. When our Minneapolis clients file bankruptcy, they only regret they have is they always say they should not have waited so long to file bankruptcy. They wished they would have filed bankruptcy a long time ago. I feel bad for people who suffer too much in the beginning. We are all human and need help from time to time.
CALL NOW FOR A FREE STRATEGY SESSION FROM A MN BANKRUPTCY LAWYER AT LIFEBACK LAW FIRM
When the time is right, when you are ready to forget about debt consolidation, look for the most kind and helpful bankruptcy law firm in Minneapolis, MN by going now to www.lifebacklaw.com. You will be so thankful you did.