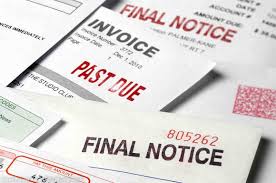 As a bankruptcy attorney, I see people with all sorts of issues and harassment they are facing from their creditors, and it is amazing the length that collection agencies will go through in order to collect past-due debts. Everyone wants to pay the bills they've incurred, but unplanned events can throw-off even the most prudent financial planners. Regardless of whether a payment was missed for valid reasons (like vehicle repairs, medical debt, job loss/income drop, etc.), collection agents will soon be calling non-stop (possibly at your work) and demanding late fees, accrued interest, and enforcing acceleration clauses which makes the full underlying balance immediately due! What's worse, is that these collection agents are incredibly hard to get in contact with, and they do not inform people of their rights when pursuing every avenue available to collect their debts.
Congress has tried to resolve this problem through enactment of the Fair Debt Collection Practices Act in 1977. See 15 U.S.C. §§ 1692 et seq. Congress found "abundant evidence of abusive, deceptive, and unfair debt collection practices by many debt collectors," and that "existing law and procedures for redressing these injuries are inadequate to protect consumers." While the purpose of the Fair Debt Collection Practices Act was to eliminate abusive debt practices; today I still see far too many creditors violating the Act, and people getting harmed by not enforcing their rights.
The Fair Debt Collection Practices Act applies to "consumer debts" and prevents "debt-collectors" from providing misleading, harassing, or abusive communications in the course of collecting a debt. The Fair Debt Collection Practices Act applies to any creditors who regularly attempt to collect debts, and it allows for people to bring a civil lawsuit against creditors who violate the Fair Debt Collection Practices Act. The Fair Debt Collection Practices Act requires creditors to identify themselves as debt collectors, and gives consumers rights for things such as written communications (or ceasing communications), and it prevents creditors from calling you between 9 p.m. – 8 a.m. or other harassing conduct.
The problem, is that ordinary people are not aware of their rights in the Fair Debt Collection Practices Act, and creditors run roughshod over them to squeeze as much money as they can out of people. Especially when talking with creditors over the phone, they will make demands for payment or state other misleading information, and make false promises they do not expect to be held to.
However, in order to hold creditors liable for violations of the Fair Debt Collection Practices Act, consumers need to file a formal civil lawsuit and prove each element of their case with evidence. Most people will not have the expertise to do this themselves, and attorneys may be reluctant to take on a battle with a huge legal department when their pay is dependent on proving that a violation occurred. I always recommend people keep detailed evidence of all communications from debt collectors, but often times it makes more financial sense to file a bankruptcy than to fight your creditors in court.
Filing a bankruptcy immediately makes it illegal for your creditors to do any act to try to collect against you whatsoever. Bankruptcy protections go far beyond the Fair Debt Collection Practices Act, but filing a bankruptcy only makes sense in certain situations. If you feel that creditors have been illegally violating the Fair Debt Collection Practices Act against you, I recommend you call Kain and Scott to set up a free consultation with a licensed attorney.
CONCLUSION
When the time is right or when you are ready, reach out to Minnesota's HIGHEST GOOGLE reviewed bankruptcy law firm at www.kainscott.com. You will be so happy you did!