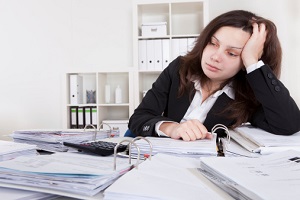 If you are drowning in debt, you are not alone. Millions of Americans across the country are suffering from debt problems due to loss of jobs, medical bills or the loss of a spouse. Life is fluid and we never know what to expect around the next corner.
Take Joe for example: Joe had a good job, was paying all of his bills on time and handling debt responsibly. However, Joe was involved in a terrible automobile accident and suffered injuries that required him to be out of work for eight months. During this time, he had no income because the driver that hit Joe did not have insurance and Joe did not have disability insurance through his employer. Up until the accident, Joe had never been late on a bill payment. He was able to keep his home because his wife worked; however, they were unable to pay their credit cards or the medical bills that began to pile up. As the bills kept coming in, Joe began to feel the emotional stress that often evolves due to overwhelming debt. Joe began to show signs of stress, anxiety and depression.
Emotional and Physical Effects of Debt
Dealing with financial problems and overwhelming debt is difficult both emotionally and physically. Emotionally, individuals can become depressed and withdrawn due to the stress they are under because of debt. Physically, prolonged stress can cause serious health issues such as heart disease, high blood pressure, obesity and diabetes. Signs of stress include:
Physically: Headaches, chest pain, fatigue, muscle tension or pain, stomach problems, sleep problems and high blood pressure
Emotionally: Anxiety, sadness, depression, irritability or anger, restlessness and lack of motivation or focus
Behavior: Overeating, undereating, social withdrawal, angry outbursts, alcohol or drug abuse and poor judgment skills
A Solution for Debt-Induced Stress
People who are drowning in debt often report stress levels that make it difficult to deal with their financial problems in a productive manner. Joe was able to recover from his personal injury and solve his financial problems by consulting with an experienced bankruptcy attorney. Because Joe met with a bankruptcy attorney, he learned that filing a bankruptcy could help him solve his financial problems and give him a fresh start so that he could begin to rebuild his life after suffering a financial crisis.
For people like Joe, drowning in debt seems to be an overwhelming problem that has no solution. However, seeking the advice of an experienced bankruptcy attorney can offer clarity and help you swim again. By filing a Chapter 7 bankruptcy, debtors can discharge most, if not all, of your unsecured debt while allowing you to keep your home and vehicle so that you can continue to earn a living and rebuild. If you can afford to pay some of your debts but need help to reorganizing them into a manageable plan, Chapter 13 offers a way to solve your financial problems while continuing to provide for the needs of your family.
We understand the stress caused by financial problems and are sensitive to the issues faced by those having trouble paying their bills and living expenses. We offer a free bankruptcy consultation so that we can learn more about your individual situation and offer real, affordable solutions to your financial problems. Request a consultation with one of our experienced bankruptcy attorneys to get started.