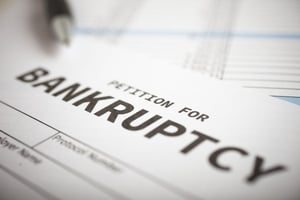 Financial trouble is probably one of the leading causes of divorce, and as a result, divorce and bankruptcy often go hand-in-hand. As stressful as it is to face both a possible bankruptcy and the break-up of your marriage, rushing into either decision can create a lot of problems. Fortunately, some careful planning can help minimize the impact so that you can move on with your life and in a better position than you are in now.
That said, these are very difficult decisions to make without a lawyer. While a divorce lawyer can help with your divorce case, you're probably going to need a bankruptcy lawyer to help you sort through the rest of the issues. The experienced Minnesota bankruptcy attorneys at Kain & Scott can help you work through the process and plot out a course that is best suited to your needs.
Understand Which Debts Cannot Be Discharged
The primary purpose of bankruptcy is to get out from underneath your debts. As a result, the first thing you need to realize is that not all debts can be discharged in bankruptcy. In the context of divorce, you should be aware that alimony, child support, and any related attorney's fees and court costs are nondischargeable. As a result, filing for bankruptcy will not change your obligation to pay child or spousal support, especially if you are already separated and behind on those payments.
Timing is Important
The next thing to consider is when to file for bankruptcy. There is no one-size-fits-all answer to this question - the right time to file for bankruptcy will depend on your particular situation. When you file for bankruptcy, the bankruptcy court will take control of all of your assets and figure out whether they can be sold or otherwise distributed to your creditors to satisfy their claims. As a result, filing for divorce at the same time you file for bankruptcy can complicate this process significantly.
Chapter 7 or Chapter 13?
The timing issue is closely related to whether you think you will file for Chapter 7 or Chapter 13 bankruptcy because of the timelines involved for each. Chapter 7 bankruptcy takes only a few months, and so it's relatively easy to do before you file for divorce or after you are divorced.
A Chapter 13 case, on the other hand, can last up to five years. Filing for Chapter 13 bankruptcy before you file for divorce could complicate both your bankruptcy case and your divorce. If you can't file for Chapter 7 bankruptcy but are considering Chapter 13, it may be better to wait to file your bankruptcy case until your divorce is finalized, but discuss this with your attorney.
Consider Whether One or Both Spouses Will File for Bankruptcy
We realize that it may seem counterintuitive to file bankruptcy jointly if you're contemplating divorce. If you haven't already filed for divorce, filing a joint bankruptcy petition presents two main advantages:
The joint petition can wipe out the debts of both spouses, thus simplifying the division of property in your divorce proceedings. To put it another way, you will not have to argue with your spouse over who should be responsible for which debts.
Filing a joint bankruptcy petition will reduce the costs and attorney's fees in the bankruptcy proceeding.
Despite these advantages, there are situations where a joint petition may not make sense. Bankruptcy will damage your credit, so if you don't share responsibility for much of your spouse's debt, then filing for bankruptcy may not be worth it.
You also need to consider your relationship with your spouse, as you will need to be able to work together and come to an agreement on some important issues. If you are on amicable terms despite the coming divorce, this probably won't be a problem. If your relationship is adversarial, on the other hand, filing a joint bankruptcy petition may not be a realistic option. It is best to discuss your specific situation with a Minnesota bankruptcy lawyer.
Inventory Your Assets
Before filing for bankruptcy, pull out the paperwork related to your major assets. Check to see who is on the title to your home or your vehicles and other major assets. Even though your assets may be considered marital property as part of the divorce case, your assets may be treated very differently in the context of your bankruptcy. As a result, you want to pay special attention to whether you share ownership with your spouse or whether you own it solely in your own name.
Then, you want to think about what you plan to do with these assets. Is your home in foreclosure? Does one spouse intend to remain in the house or do you plan to sell it? Prior to rushing off to bankruptcy court, you want to engage in some financial planning to determine which assets you would keep and which assets you would surrender to creditors or give over to your spouse.
Inventory Your Debts
Similar to your assets, you also want to think about what debts you owe. Credit card debt can be a surprise, especially when the card is in both spouses' names. Understanding what debt you are carrying, who is responsible for it, and whether it is secured or unsecured will help you shape your strategy with regard to your bankruptcy and divorce.
Contact a Minnesota Bankruptcy Attorney Before You File For Divorce
If you think you may need to file for bankruptcy and are also considering divorce, you should talk to a Minnesota bankruptcy attorney before making any decisions. At Kain & Scott, we know the challenges that you're facing, and we're dedicated to helping our clients find the best possible solution. Call us at 800-551-3292 or contact us online to schedule a free consultation.