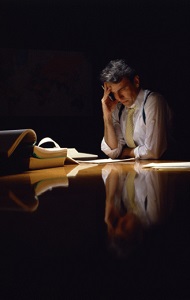 Constantly feeling like you are trying to catch up, while preventing yourself from falling further behind, is exhausting. The longer this drags on, the more tired and discouraged you become. Financial stress is known for causing personal health problems as well as relationship issues.
Debt is often taken very personally, as if it is a reflection on one's ability to manage life. This may be a reason debtors often develop a lower self-esteem and acquire a cynical view of their current life and potential future. The constant stress of trying to catch up can lead to depression, as well as insomnia, headaches and upset stomachs.
Internally debtors typically blame themselves, but it often causes marital issues, too. It is easier to blame someone else than to admit out loud, "I am to blame." Anger, stress and frustration bring out the worst in people, causing us to say things we didn't mean or do things without thinking them through. When financial stress causes depression, individuals tend to withdraw from their partner and allow the destructive thoughts to consume them.
We see this time and again with clients and we want to urge you to not let your financial situation take control and bring you to this point. Financial troubles are not worth sacrificing your health or loving relationships – there are types of bankruptcy available to put an end to your worries and solve your financial burdens.
Chapter 7 Bankruptcy
Chapter 7 Bankruptcy is for those who have no assets to lose and, after paying basic monthly expenses, no money left to pay off debts. It will give you a fresh start and can alleviate your stress by eliminating your liability for repaying your debt. Primary priorities for Chapter 7 filers are to keep exempt assets and be relieved of all liability for as many debts as possible.
The size of your debt has nothing to do with your opportunity to file a Chapter 7 – it solely depends on your ability to pay your debt. Because your income directly affects your ability to pay off debt, there are specific income qualifications you must meet. Your average income over the past six months must be lower than your state's median income. If your average income doesn't fall below your state's median income you must complete a "means test."
The means test was designed to allow only those who truly can't pay their debts to file Chapter 7 bankruptcy. This test calculates your disposable monthly income by subtracting your "allowed" monthly expenses from your monthly income. (Allowed monthly expenses commonly include your basic necessities such as housing, transportation, food, etc.)
Chapter 13 Bankruptcy
Chapter 13 bankruptcy is right for debtors who are experiencing a temporary setback, which is prohibiting them from making their payments. This option provides time, allowing you to get back on schedule with your finances. You will make monthly payments, but they will be reduced, interest-free and your life will be void of collection agency harassment. Chapter 13 protects your property, prevents foreclosures and repossessions and prohibits wage garnishments.
Chapter 13 is often referred to as the "wage-earner's plan." When filing a chapter 13 bankruptcy you need to create and submit a repayment plan that will span 3-5 years, with installments based on your income. If your monthly income is less than your state's median, 3 years is the typical repayment plan length. If higher, your repayment plan will span 5 years.
Essentially, Chapter 13 acts like a debt consolidation loan by consolidating all of your debt and allowing you to make one payment. The added benefits include:
After your repayment period ends, any unpaid debt is eliminated, tax free
Creditors must comply
No routine fees to pay a consolidation company
Protects co-signers
No credit collection action can be taken against you during or after the repayment period
Not sure yet which option is right for you? Don't worry – this is merely a preview into your options. Download our Debt Solutions 101 ebook to learn more about each type of bankruptcy or, if you are ready to take action, talk to a bankruptcy attorney.