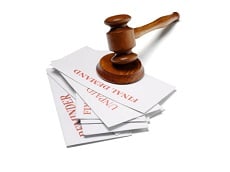 If you do not make payments to your creditors they may choose to hand over or sell your debt to a collection agency. If this happens you now owe the collection agency that money you owed your creditors. Collection agencies function to collect the money you owe. The debt collection industry has gained a bad reputation for performing illegal collection and scare tactics to get you to give them money. They do have the right to make attempts at collecting on your debt, but there are guidelines and parameters they must respect.
Although you do legally owe them money you should know that you are protected against harassing, threatening and illegal collection activities by the Fair Debt Collection Practices Act (FDCPA). However, they do have the right to contact you and take action against you in an attempt to collect on your debt. Below are some of the common collection tactics used, legal and illegal. To fully understand your rights, review the Fair Debt Collection Practices Act (FDCPA) or talk to an attorney.
If you cannot make payments you can file bankruptcy to legally stop all collection activities. This is known as an automatic-stay.
Phone Calls & Letters
A collection agency may contact you between 8 am and 9 pm; anytime outside of this range can only be done if they have your permission. When contacting you they must identify themselves accurately and their purpose for calling. They may not trick you into accepting their call by pretending to be a lawyer or government official, friend or other contact.
Other actions they may not perform:
Call repeatedly
Harass you
Use offensive language
Say you committed a crime
Call you at work (if they know your company doesn't allow it)
Use automated phone calls
Collection agencies may contact you through the mail. This communication follows the same guidelines as verbal communication listed above. Additionally, they cannot send you documents that mirror the appearance of legal documents, unless of course they are legal documents notifying you of their action.
You have the right to request, in writing, that the collection agency stop contacting you. If you do this, they may only contact you in the future to tell you they are pursuing legal action against you. However, if you have a lawyer, all communication should go directly to him or her.
Finally, know that your privacy is protected. Collection agencies can only discuss your debt with you, your creditor, any attorneys involved and credit bureaus. They may only contact others – employers, family members and neighbors for example – to find out how to contact you. Apart from asking for your phone number or address the collection agency may not disclose any information about their purpose for contacting you.
Legal Action
Collection agencies may take legal action against you as an attempt to collect on your debt. Some of those actions include garnishments, liens and lawsuits. In order to proceed on any of these actions the collection agency needs to get a court order.
Garnishment: "A legal procedure by which a creditor can collect what a debtor owes by reaching the debtor's property when it is in the hands of someone other than the debtor." For example, collection agencies can garnish your wages or freeze your bank and savings accounts.
Lien: "A lien is an encumbrance on one person's property to secure a debt the property owner owes to another person." A collection agency may obtain a lien against your home, for example.
Legally they cannot threaten garnishment, liens or lawsuits if they have no intention to do so. If a collection agency does pursue legal action against you, never ignore it. Failure to respond to legal action will often result in a judgment against you.
Debt Expiration
Finally, there is no time limit on debt collection; as long as you have debt, collection agencies may attempt to collect. However, there is a time frame for taking legal action against you. In Minnesota, according to state statute 541.05, collectors can take legal action against you for 6 years.
If your debt extends beyond this time period you can let the judge know your debt is time-barred which typically results in dismissal of the lawsuit. This time frame begins when your account becomes delinquent (the date of your last payment). However, the time-frame starts fresh if and when you make any payment on your account, regardless of the amount.
Other
Collection agencies may report negative information on your credit report if it is accurate. If it is inaccurate you are responsible for reporting it to the credit reporting company.
It is best practice to keep a copy of all communication and log all of your interactions with the collection agency. If legal action is taken, by you or the collection agency, you will want to be prepared with as much information and detail as possible.
This is only a few of the common debt collection tactics agencies use to collect on your debt. If you are dealing with debt collectors or collection agencies and you think their actions are illegal, review the FDCPA or talk to a legal professional.
Another option is filing for bankruptcy; the minute to file a petition all collection actions must cease. Talk to a bankruptcy attorney today to see if filing is right for your situation.