We see individuals and families of all shapes and sizes in need of help due to financial instability and hardship. In order to portray the "true story" of filing bankruptcy in Minnesota we want to share some of our experiences with people just like you, looking for a way out of debt and a fresh start. We are going to add generalizations and change the personal details for privacy purposes. However, many debtors experience similar situations and circumstances, so these stories are likely shared by many.
Setting the Scene
Late in 2007 our family came upon some unexpected hardship that turned our world upside down. I was a stay at home mom caring for three kids, one age 8 and the other two under age 5. As most mothers will agree, a stay-at-home mom is a full time job, and I was allowed to have this role in our family because my husband worked for a large manufacturing company where he made enough money to support our entire family.
Due to some unforeseen circumstances, the plant my husband worked at was shutting down, leaving him out of work and our family out of income. He was given a severance package that would support us for three months. Most unfortunately this happened right before the holidays started; in anticipation of him finding a new job and wanting to keep the Christmas cheer high for our children, we chose not to cut back too much on holiday spending. This was not the best decision for us, because my husband was not able to find a job as easily as we predicted. As they say, "hind-sight is 20/20."
I was able to find work as a receptionist, but the pay was not enough to support my family. So my husband stayed home with the kids and applied for jobs while I went to work. Six months later we were swimming in credit card debt and barely able to make our mortgage payments.
The Emotional Ramp Up
I cannot describe the loss and anxiety I felt when my husband lost his job. This was, and has been, our only source of income for years. I felt fairly confident however that he would be able to find work quickly. This wasn't the case and I could tell it was taking a toll on him as well. He was becoming depressed and, although he would never admit it, ashamed that he couldn't provide for his family.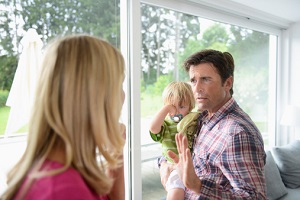 As the months went on the anxiety and stress became insurmountable and we began fighting almost every night because it was easier to blame one another than it was to accept responsibility. Creditors began calling and we had nowhere to turn. Our savings had been spent a few years ago on the down payment on our house and we hadn't been able to build it up much because we had two kids in the meantime.
One evening my eight year old daughter asked me if she could join her school's soccer team. I had to look her in the eyes and admit that we couldn't afford it. That pained, abandoned look in her eyes still haunts me today. My husband and I spent nights crying, screaming and, eventually, in silence. When the silence set in I knew it was time to take action, to save my marriage and my family.
Choosing Chapter 13
After doing some research I decided to call a bankruptcy attorney and ask him to meet with me to review my situation, but mainly just to talk to someone who may have a solution. Before I sat down with Wes Scott, a bankruptcy attorney in St. Cloud, I was not convinced bankruptcy was the right alternative.
When I left, I was positive a Chapter 13 was right for my family. We were experiencing a temporary setback because my husband was out of work, and my income was enough to qualify us for a Chapter 13. This solution allowed us to keep our home and helped us prioritize our debts and pay back what we could afford. Wes told me that income loss is one of the top five reasons debtors need to file bankruptcy – we weren't alone in this struggle! Wes and this chapter 13 bankruptcy was the answer I was looking for, my light in the darkness.
Light at the End of the Tunnel
Our repayment plan was approved and we began making our monthly payments. Slowly, as we gained control of our finances, everything fell back into place. We are still in our repayment period, but my daughter is on the soccer team and my husband is back at work. I kept my job for financial security and look forward to picking my little ones up at school/daycare every day after work.
Financial difficulty is a personal matter and most people choose to keep it that way because of the perceptions associated with it. For this reason, and others, we wanted to share some Chapter 13 bankruptcy experiences happening in your backyard and across the nation. Over the course of many blogs we will recap a variety of personal bankruptcy experiences to give you a clear understanding of the emotional impact of debt and how the bankruptcy process has helped people just like you. If you think bankruptcy is right for you, have a bankruptcy attorney review your situation.