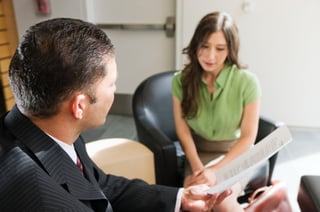 When you make the decision to file for bankruptcy in Minnesota, you are making the decision to erase your debts and change your life for good. But knowing which type of bankruptcy to file – Chapter 7 or Chapter 13 – can be confusing. Each type has the power to erase your debts and which is right for you is determined by your unique financial situation.
The major differences between Chapter 7 and Chapter 13 bankruptcy are: 1) the time it takes for your debts to be discharged; and 2) the effect filing bankruptcy will have on your big-ticket items like your house and car. As a quick reference, the differences between the two are summed up below:
Chapter 7 – 90-120 day discharge, fresh start
Chapter 13 – 3-5 year discharge, easy payment plans, keep car and house
If you think that, like millions of other Americans, erasing your debts with bankruptcy is the best way to regain control of your life, read on to explore the ways that Chapter 7 and Chapter 13 bankruptcy differ, as well as how to determine which type of bankruptcy is right for you.
CHAPTER 7 BANKRUPTCY
Chapter 7 Bankruptcy has two major perks: 1) your debts are discharged in 90 – 120 days; and 2) all your debt is wiped away completely, forever! That's right, with Chapter 7 bankruptcy you can clear your debt fast, for good! With Chapter 7 bankruptcy, there is no need to repay your debts; they simply disappear! Once your 90 – 120 day period is over, your debts are erased and you get a clean financial slate. It's quick and easy!
CHAPTER 13 BANKRUPTCY
Chapter 13 Bankruptcy, on the other hand, is designed to help you pay back your creditors and keep your big-ticket items, like your house, car, boat, and RV. An affordable repayment plan is established and after successfully making payments over the course of a 3-5 year plan, any remaining debt is erased forever! In just a few short years of making payments that are based on what you can afford, you can avoid the disastrous effects of falling behind on your mortgage or auto loan, such as foreclosure and repossession. And, whatever debt remains after your repayment period is forgiven forever!
CHOOSING BETWEEN CHAPTER 7 AND CHAPTER 13 BANKRUPTCY
Now that you have a better understanding of the unique benefits of each type of bankruptcy, you can begin to decide which option is right for your family. With the help of an experienced Minnesota bankruptcy, you can weigh the benefits of each type of bankruptcy with the requirements of each. Examples of factors that will impact your decision include:
Your income;
Your expenses;
Whether you are behind on mortgage or auto payments and, if so, how far behind;
The age and amount of any back taxes owed;
Your student loan debt, if any.
Your income and expenses will determine whether you are able to afford a Chapter 13 repayment plan or if Chapter 7 would be a better choice. Additional information, such as your payment history on your mortgage or car, or the existence of unpaid tax debt or student loans, will also affect whether Chapter 7 or Chapter 13 is the best solution for your family. A knowledgeable Minnesota bankruptcy lawyer can take a close look at your finances—income, bills, debts, living expenses, etc.—and guide you towards choosing the best bankruptcy for your situation.
BANKRUPTCY WITH KAIN & SCOTT, MINNESOTA'S LEADING BANKRUPTCY LAW FIRM
Whether you choose to file Chapter 7 bankruptcy or Chapter 13 bankruptcy, you will need an experienced and professional Minnesota bankruptcy lawyer by your side. With Kain & Scott, Minnesota's leading bankruptcy law firm, you'll get excellent legal services by lawyers who specialize in bankruptcy.
Our highly-rated law firm is also Minnesota's Nicest Bankruptcy Law Firm. Whether it's due to our extensive knowledge of bankruptcy, our stellar client services, or friendly staff, our clients agree that our law firm is a cut above the rest. Best of all, our lawyers understand that unexpected debt can happen to anyone for any number of reasons. At Kain & Scott, we don't judge you; we help you get your life back!
We also outshine the competition by offering exclusive money-saving perks such as our 100% Money Back Guarantee, free initial consultation and free online filing from home! But that's not all – we are proud to be the only bankruptcy law firm that also offers our clients a FREE 90 Day Credit Repair program so you can erase your debts and repair your credit for good!