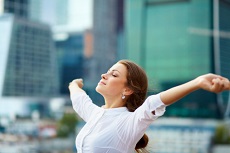 Your stress will begin to diminish the day you decide to file Chapter 7 bankruptcy. Taking action against your debts will take some of the pressure off – but taking action to abolish your debt completely will have you sleeping peacefully at night.
When you Decide to File a Chapter 7 Bankruptcy…
The minute you decide to file Chapter 7 the light at the end of the tunnel appears. Your financial troubles will be over in approximately three to four months. If you don't make the decision to file, your troubles may extend for years.
Additionally, if you choose to file with a bankruptcy attorney on your side, your stress could be nearly non-existent. A bankruptcy attorney can guide you through the application process, prepare you for your meeting of creditors and be by your side through all proceedings. They offer experience and legal expertise that is impossible to achieve without working with an attorney. A bankruptcy attorney will make the Chapter 7 process much easier and it will be completed much faster than if you attempt it on your own.
As Soon as you File a Chapter 7 Bankruptcy Petition…
An "automatic stay" is put in place the minute you file Chapter 7. The automatic stay prohibits creditors from continuing any collection or harassment actions against you. This includes all non-initiated and future lawsuits, wage garnishments, bank levies, telephone calls and more.
The pressure creditors can apply, whether you realize it or not, can be tremendous. Removing this source of stress from your life will lift a large weight and allow you to focus on moving forward instead of constantly trying to catch up.
During your Chapter 7 Bankruptcy Case…
During your Chapter 7 filing you will have help on your side, to interact with the companies or institutions you owe money too and direct you down the right paths. Your bankruptcy attorney will assist you through the mountains of paperwork, prepare you for questions you will be asked during your creditors meeting, engage with the court on your behalf and provide advice to help you make the best of your situation.
A trustee will also be assigned to your case. This individual will notify your creditors of your petition to file bankruptcy, schedule your creditors meeting and follow-up with your creditors post-discharge. Furthermore, the trustee will inform you of the outcomes for filing Chapter 7, including:
With the help of your bankruptcy attorney and trustee you will be prepared for filing, completing and living life after bankruptcy.
Also, throughout the duration of your bankruptcy will have the option to reaffirm your debt to retain certain property. Say, for example, your car is your only mode of transportation and you need it to continue getting your kids to school and to work. To keep this piece of property you will need to reaffirm your debt during bankruptcy and then continue making payments afterward. As you can see, contrary to popular belief, there are ways to keep your property in a Chapter 7 bankruptcy.
Upon Completion of your Chapter 7 Bankruptcy…
A discharge order – eliminating liability for repaying your debts and stopping any future creditors' collection actions on this debt – will be issued two to three months after your meeting with creditors. Apart from cases that are dismissed or converted, 99% of Chapter 7 cases are discharged. Now if this success percentage doesn't alleviate some of your stress, nothing will.
When your debts are discharged you are free to start fresh and begin rebuilding your credit. A fresh start will eliminate your stress, and if you move forward responsibly, your stress, that which is brought on by financials, should stay away.
Start your journey toward being stress free by requesting a free bankruptcy consultation. A no-obligation consultation will introduce you to an experienced Bankruptcy Lawyer that can assist you in deciding whether or not Chapter 7 bankruptcy is the right option for you.