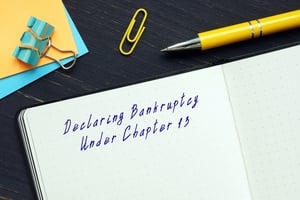 I have pity for humans who try to avoid the "b" word because they want to pay their debt. We all want to pay our debt. The issue is this: who comes first, your family or your creditors? Your family has to come first.
The trouble with "traditional" debt consolidation programs (like the ones you see on TV or hear about on the radio), creditors eat first you eat last. Can't afford the payment creditors want? They garnish your wages and freeze your bank accounts. There is a better way.
A lot of Minneapolis, MN residents don't know they qualify for a government sponsored debt consolidation program! It's called a Chapter 13 Bankruptcy and here is the thing: you are making payments back to your creditors BUT, the payment is based on what you can afford to pay not what creditors demand.
Plus, at the end of a 36-60 month plan, whatever debt doesn't get paid off gets wiped out forever. Imagine if you had 100k in credit card debt. Over a 60 month plan, you pay 25k. The balance of 75k gets wiped out forever. Amazing right? And while you are in the Chapter 13 Bankruptcy creditors cannot garnish wages or levy your bank accounts. Even better.
If you are suffering through a debt consolidation program now, reach out to us to see if this government sponsored debt consolidation program is for you. If you are contemplating doing a "traditional" debt consolidation program, stop now and discuss this option with us first. Don't suffer through 1-2 years of high debt consolidation payments, only for the plan to fail and the only one who got paid was the debt consolidation company.
CALL NOW FOR A FREE STRATEGY SESSION FROM A MN BANKRUPTCY LAWYER AT LIFEBACK LAW FIRM
When the time is right, or when you are ready, reach out to Minnesota most kind and helpful bankruptcy law firm by going now to www.lifebacklaw.com. You will be so thankful you did.