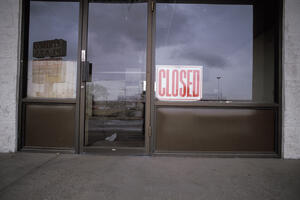 One of the more common reasons why people file for bankruptcy is because of a business failure. A business failure is a difficult time and you shouldn't make it more difficult than it has to be by trying to handle the situation on your own. If you find yourself in over your head with business debt, filing bankruptcy can provide you with a more manageable way to pay those debts. It can also give you the fresh start you need to rebuild your finances and get your life back after closing your business.
A Personal Story of Business Failure
When you open your own business, you do so with the expectation that it will be very successful. Unfortunately, for some business owners, this is not the reality. Whether it is due to a bad economy, a change in the market or a personal tragedy, some business owners may find themselves owning a failing business.
When this occurs, most business owners do whatever it takes to keep their business open. It is only natural that they would try anything to keep their business operating until "things turn around." For example, John and Joan dreamed of owning a small shop that catered to consumers who wanted to buy and use green, sustainable products. Protecting the environment was important to them and they knew that others shared their conviction. They began by selling products from home but quickly moved into a storefront when business began to thrive.
For several years, business boomed and they were very successful. When the recession happened, sales plummeted. Even though people still wanted to be "green" it was much cheaper to buy less environmentally-friendly groceries and items. John found another job to make ends meet while Joan struggled to keep the store open. They opted to take a second mortgage on their home to fund the business until the economy improved.
Things started looking up as more customers returned to the store. The business was earning enough money to pay its bills and provide a little income for John and Joan. Unfortunately, John was injured at his other job and faced a long recovery. Even though he had some benefits through work, his pay was greatly reduced. Again, John and Joan faced financial problems. This time it was personal finances because even though the business was doing better it was not producing the amount of money needed to pay the business bills and their personal bills without John's additional income. They thought they would lose their business and their home until they met with a bankruptcy attorney.
Business Failure and Bankruptcy
John and Joan's story is a familiar one. People work hard to build a business and when the business begins to fail, they pour their personal assets into it to keep it running. Sometimes this works and the business is able to rebound and repay the personal loans of the owners, but many times it doesn't.
In the case of John and Joan, they wanted to continue to operate their business but needed help reorganizing their debts so that they could manage them on a reduced income. As self-employed debtors, they were eligible to file a Chapter 13 bankruptcy case. Since all of the debts of the business were in the personal names of John and Joan, they could include those debts in the Chapter 13 bankruptcy case. Some creditors refused to continue to do business but others agreed to "cash only" basis for future purchases provided they received the amount they were entitled to receive through the bankruptcy plan. The Chapter 13 allowed John and Joan the ability to reorganize their debts in a way that they could continue to operate the business until John had fully recovered and was able to return to work.
On a side note, let's assume John and Joan decided to close their business. Bankruptcy would still give them relief from their debts by allowing them to surrender any remaining business assets to the bankruptcy trustee and discharge their personal liability for business debts, and most personal debts, so that they could have a fresh start free of the burdens caused by the business failure. While this is certainly not the best ending to the story, bankruptcy does provide hope that a business owner can recover and rebuild after the closure of a business.
Each Business and Case is Different
It is impossible to cover all of the various scenarios that may happen when a business fails. Each business is different and the facts and circumstances of each bankruptcy case are unique. The important thing is that business owners understand that bankrjtpcy is not necessarily an end to their business. Bankruptcy may actually be able to save the business but the first step is to seek the advice of an experienced bankruptcy attorney.
If you are facing or have experienced a business closure, sign up for a free bankruptcy consultation to learn how bankruptcy can help you. We will discuss all available bankruptcy options to help you reach a decision that is in your best interest. For more information about bankruptcy, sign up for our free monthly eNewsletter.