Charles*, a previous client of mine offered to share his personal bankruptcy story, in hopes that if you are facing a similar situation you might seek help and find comfort in the fact that you are not alone. I am grateful Charles is sharing his story because his experience is the epitome of financial situations taking a turn for the worse, and there was nothing he could do about it. I think many debtors relate to his situation and his emotional struggle to reach out for help.
Charles' Story
My father had always told me that a man pays his own way. Naturally, I heard his voice over and over in my head and I was frustrated that no matter how hard I worked or how hard I tried, I just could not catch up on all of my bills and put food on the table. I put off the decision to speak to a bankruptcy attorney for a long time because I felt ashamed that I could not adequately support my family - - I almost waited until it was too late.
From Stability to Turmoil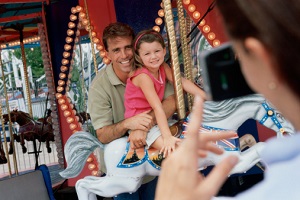 I am married to my beautiful wife and we have two children. Things were going great for us the year before the birth of our second child. My landscaping business was doing well, my wife was working full time at a bank and we had just returned from a family vacation when we found out that we were expecting our second child. Our bills were current, we were saving for retirement and we had a small emergency fund - - we were doing everything right. It is daunting to believe how things went so terribly wrong in a very short period of time.
During her fourth month of pregnancy, my wife had complications and she was ordered on bed rest for the remaining term. While short-term disability through her employer helped, I had to cut back on my landscaping business to help take care of our other child and my wife. As the weeks and months passed, it became much more difficult to pay our bills. My wife's benefits ended when she gave birth to our second child; however, she was unable to return to work because her position had been filled, due to her long absence. Unemployment helped some and I returned to work full-time but I had lost several clients so business was much slower. Our expenses had increased, our income had decreased and we were just trying to hold it together. Bill collectors began calling, we were receiving threatening letters and then the foreclosure notice for our home. At that point, I swallowed my pride and scheduled a bankruptcy consultation with Wes Scott.
An Experienced and Professional Shoulder to Lean On
During our first meeting, I discovered why it is important to have an experienced bankruptcy attorney to represent you during your bankruptcy. First, he understood what we were going through and how to help us deal with the feelings of frustration, guilt or fear that we were experiencing. Second, he had the experience and knowledge to handle simple cases and more complex cases like mine (because I was a business owner).
Wes explained that we could file a Chapter 13 repayment plan to save our home and reorganize our debts into one manageable monthly payment. We would only pay our mortgage payment, the trustee payment and our living expenses (they were even able to include our car, value the lien and lower the secured amount we owed on the car). I learned that a Chapter 13 repayment plan would allow me to pay back as much as I could to my creditors, while still providing for my family. I immediately felt a sense of relief because I was able to do something positive about the debt I owed, rather than continue to struggle with no resolution in sight.
While I do not understand everything that Wes did to calculate my Chapter 13 repayment plan, I do understand that I am paying 0% interest on the huge medical debt from the pregnancy and the credit card debt we had accumulated, a lower interest rate on my vehicles, 0% to the Internal Revenue Service on the taxes we owed and we were able to surrender our boat without worry about a deficiency judgment. Our retirement accounts and other assets were saved, thanks to Wes, so we did not lose anything significant through our bankruptcy.
We ended up paying approximately $16,000 of our estimated $66,000 in credit card debt. The balance of the debt, roughly $50,000, was wiped out-tax free! I am so glad we never started out in a regular debt consolidation program. Chapter 13 allowed us to keep our home, not lose any assets, and pay my creditors what I could afford to pay them, and no more. The balance of the debt was discharged in bankruptcy.
The Chapter 13 repayment plan saved my family and my business. I understand now why bankruptcy laws exist - - to help people like me.
If you are trying to deal with your debt problems on your own, request a free bankruptcy consultation, even it is simply for informational purposes. We can explain how a Chapter 13 repayment plan may resolve your debts, or introduce other options as well, to help you find an affordable solution to your financial problems.
*Names have been changed for privacy purposes.