Are you considering filing for bankruptcy relief? It is possible to do this on your own (without a bankruptcy attorney). You will have to act as your own legal representative – which requires an understanding of the Bankruptcy Code, not to mention court etiquette and filing procedures. Incompletely or improperly filing bankruptcy will cause more headaches and issues than you had to begin with. Once you file a bankruptcy case, you may not be able to undo any mistakes you make while representing yourself.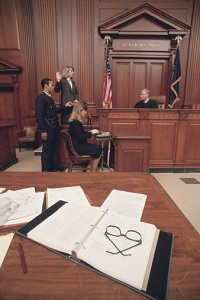 There are a few common issues that arise when debtors file bankruptcy on their own. First, you are emotionally involved with the situation, which makes it difficult to think clearly and make sound legal decisions about the case. Second, even if you do know the basics of the law, you likely don't know all the intricacies of bankruptcy proceedings. There are things the internet or a book simply can't teach you. Third, you'll be missing one very important benefit of hiring an experienced bankruptcy attorney to represent you in a bankruptcy case -- someone on your side that is there solely to protect your interests during the bankruptcy process. The experience of a bankruptcy attorney cannot be faked or superseded.
The Value of Experience
Extensive experience is what allows attorneys to develop the best plan to solve a client's financial problem. For example, the bankruptcy attorneys at Kain & Scott, PA have 47 years of combined bankruptcy experience, which gives debtors a significant advantage. Those dealing with debt collectors, foreclosures, repossession, collection suits, taxes and other debt problems can rest assured experienced attorneys know the best, most efficient solutions. Here are some of our advantages we, experienced personal bankruptcy attorneys, offer to clients:
Focused and Specialized
Our practice is dedicated to bankruptcy law; this means 100% of our focus is on the bankruptcy process, bankruptcy laws and helping clients solve their financial and debt problems. Bankruptcy law is a very specialized area of law. In fact, bankruptcy courts were instituted for the sole reason of hearing bankruptcy cases. We spend 100% of our time researching the current bankruptcy law and helping debtors file for bankruptcy relief. Most attorneys who have never practiced bankruptcy will tell you that it is in your best interest to hire an attorney who practices bankruptcy on a regular basis and will often refer you to a bankruptcy attorney rather than take the case themselves.
Knowledge and Experience
Because our attorneys have 47 years of bankruptcy experience, they know every step of the bankruptcy process – from filing the petition through representing clients in court and even appealing decisions should the need arise. An attorney without bankruptcy experience may not understand new bankruptcy laws or know how to take advantage of bankruptcy exemptions to benefit their clients.
It takes years of practice to understand the various chapters of bankruptcy available to clients, know how to best structure a bankruptcy plan or know what chapter of bankruptcy will benefit a client the most. Because our attorneys have practiced for so many years, our firm has handled just about every situation that can arise during a bankruptcy case. We draw on that wealth of experience and knowledge to help our clients successfully reorganize or wipe out their debts to have a fresh start. Our experience helps us identify potential problems and head them off before they adversely affect our clients.
Know the Courts
Because we have been practicing in the same courts, with many of the same attorneys, judges and court personnel for many years, we know their procedures and requirements. This advantage helps our clients have a smoother bankruptcy process than with other attorneys who must stumble their way through an unfamiliar court system.
Work Done Right the First Time
We prepare the documents to file with the court, we answer all of your questions and we walk you through the bankruptcy process so that you never feel like you are alone. It is stressful enough dealing with debt collectors and wondering if you will ever be able to recover from your debt problems. Hiring our firm to file your personal bankruptcy gives you a trusted ally who can answer your questions, calm your fears and do all of the heavy lifting to get you back on your feet and on your way to a brighter financial future.
At Kain & Scott, bankruptcy is not just what we do, it's all we do! Request a free consultation today: