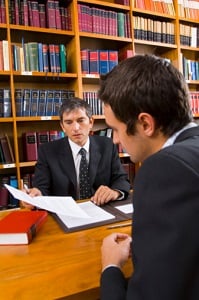 Making the decision to file bankruptcy is not easy. Most people struggle with how to handle their financial problems and only come to the conclusion to file bankruptcy after considering all other alternatives. By the time you arrive at a bankruptcy attorney's office for a free debt consultation, you'll have dozens of questions to ask the attorney about the bankruptcy process. While you will likely have questions to ask an attorney that are specific to your situation, it is beneficial to add the following questions to your list of topics to discuss:
#1 - How long does the bankruptcy process take, from today until discharge?
The bankruptcy process is unique for each individual and the time it takes to prepare and file a bankruptcy case varies. Our staff will work with you to obtain the necessary information to prepare your bankruptcy petition and schedules to file your case as quickly as possible after you retain our firm. Your discharge date will then depend on the chapter of bankruptcy that you file.
In a Chapter 7 bankruptcy case, creditors have 60 days from the First Meeting of Creditors to file an objection to discharge. Once this deadline passes, the clerk of court will issue a discharge. Most Chapter 7 debtors receive their discharge about four months after the filing date of the bankruptcy petition.
However, in a Chapter 13 case, the debtor must complete all of their payments under the Chapter 13 plan before a discharge is granted. Therefore, the clerk of court will issue a discharge in a Chapter 13 as soon as practicable after the trustee notifies the court that the debtor completed all payments under your plan, which may span 3-5 years.
#2 - What information do I need to gather in order to get started?
While each bankruptcy case is unique, the following documents and information are standard in most bankruptcy cases:
Copies of your driver's license and Social Security card
Proof of income – copies of pay advices, retirement income, etc. for the past six months
Tax returns – previous 2 years
Copies of your bills
Property documents – copies of deeds, contracts, mortgages, leases, car registrations and other documents evidencing ownership in assets.
Other documentation – you may be required to provide other information and documents depending on your case; however, our staff will help you with this so that you do not feel overwhelmed or nervous
#3 - What are your fees and what is included in those fees?
Attorneys provide slightly different services for different amounts; therefore, during your free debt consultation we will discuss our fee structure and what services will be included in our fee for a bankruptcy filing. Our bankruptcy attorney fees are based on several elements including the chapter of bankruptcy being filed and the complexity of the case. Generally, our fee covers analyzing your financial situation, reviewing financial documents, preparing the necessary paperwork to file your case and attending the First Meeting of Creditors and the Confirmation Hearing.
Court filing fees are standard and vary depending on the chapter filed. The filing fee for a Chapter 7 is $306 and the filing fee for a Chapter 13 is $281.
#4 – Is helping people with bankruptcy all your firm does?
Past experiences and successes will help you trust your lawyer and feel comfortable sharing your anxieties and concerns. Plus, you can rest assured you are in good hands – hands that have done this before. At Kain & Scott PA, bankruptcy is not just what we do, it's ALL we do!
Our firm has been helping clients in the St. Cloud, MN area file for bankruptcy relief since 1981. Together, we have over 47 years of combined experience in bankruptcy and debt relief. Our firm handles filing bankruptcy in all the various chapters under the Bankruptcy Code. Our bankruptcy cases include both consumer and business bankruptcies, so we have the experience necessary to handle any issue that may arise during the course of the bankruptcy case. Be wary of law firms that try to be the jack of all trades, but the master of none.
#5 - Do I have any other options for solving my debt problems?
There may be situations where a bankruptcy is not the best option to solve your debt problems. It is part of our job to analyze your financial situation and then offer you practical and affordable solutions to your financial problems. Those options may include bankruptcy as well as bankruptcy alternatives; however, we always perform a thorough consultation prior to discussing your alternatives and advising which alternative is best to solve your debt problem.
Schedule a free debt consultation so that we can answer all of your questions about bankruptcy, debt relief and bankruptcy alternatives.