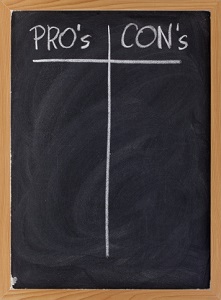 If you are struggling with debt, you are not alone. Many Americans face this situation every day due to job loss, loss of a spouse, medical illness or other circumstances that prevent them from paying their bills. Whatever your situation may be, it is important that you understand that there are options available to help you manage this burden and recover financially and emotionally. One possible solution for dealing with debt is debt consolidation. Debt consolidation can help individuals who are struggling to make minimum monthly payments on their credit cards or other debts. However, in some cases, debt consolidation could create more problems than it solves. While it may seem practical to consolidate debts into one, lower monthly payment, you must first consider the pros and cons to debt consolidation.
Debt Consolidation Pros and Cons
In this section, I will review some debt consolidation pros and cons, and explain how each one can help or hurt you.
Debt Consolidation Pros – What are the Advantages?
Lower Monthly Payment

– This can be helpful if you have the ability to pay your debts but you are struggling to pay your daily necessities. One lower monthly payment will "free up" money in your budget to pay for food, rent and utilities.
For example, you can consolidate several student loan payments into one loan with a lower monthly payment and a lower interest rate.

Single Creditor, Single Payment

– A debt consolidation loan helps if you have difficulty managing multiple credit accounts. It provides you with an easier way to manage your finances each month - - one payment and one company to deal with if problems or issues arise with the account.

Tax Advantages

– With a home equity loan, you can consolidate unsecured debts into one lower monthly payment, usually with a lower interest rate. Since the interest on most home equity loans is tax deductible, it can also help during tax time.
Debt Consolidation Cons – What are the Disadvantages?
Lower Monthly Payment

– Debt consolidation extends the term on each account included in the consolidation. In other words, it will take you much longer and cost you much more money in the long run, to pay what you owe now due to interest continuing until the end of the term. Furthermore, you may be tempted to open new credit accounts if you are lulled into a false sense of security when you see more money in your pocket and only one bill to pay. Debt consolidation, in this case, is not a wise decision, especially if you anticipate a decrease in your future income.

Home Equity Loans

– If you borrow money against your home to consolidate debts, you could lose your home if you fail to make the payments. For borrowers already struggling to pay the debt they owe, this could potentially result in a foreclosure and loss of the home. In this case, debt consolidation is not a viable option.

Debt Consolidation Companies

– Debt consolidation companies very rarely pay off each debt in full. They negotiate a reduced amount with each company, charge you high fees for this service and leave you with charged-off balances that you still legally owe, which damage your credit rating. Furthermore, creditors are not required to agree to these terms, so you may have multiple accounts to pay in addition to your debt consolidation payment.
While debt consolidation pros and cons are unique to each individual, debt consolidation as a whole is usually most helpful in cases if you are not in serious financial trouble, able to continue making monthly payments and simply seeking an easier way to manage monthly finances. For those struggling to pay bills and/or living paycheck to paycheck, bankruptcy is a much better solution when compared to debt consolidation.
Benefits of a Chapter 13 Reorganization
One affordable monthly payment;
The trustee must submit reports. They are subject to audits and supervised by a federal office;
Creditors cannot continue collections or take legal action once the bankruptcy is filed;
Repayment plans can be as short as three years but no longer than five years;
The interest rate is lower than most debt consolidation plans;
You are not taxed on any debts that are forgiven through the bankruptcy; and,
You have a fresh start at the end of your bankruptcy case with all unsecured debts paid in full or forgiven.
If you are struggling financially, bankruptcy can help you. Request a free bankruptcy consultation and let us explain in more detail how a Chapter 13 can give you the relief you need for a fresh start.