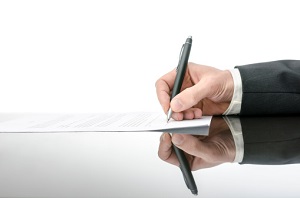 Financial hardship is one of the most stressful situations many people unfortunately experience at some point in their lives. This stress is magnified by the pressure creditors apply through their attempts to collect on your debt. Common collection attempts include notification letters and phone calls. Although they may sound harmless – after all it's just a note in the mail or a brief conversation – these reminders can be embarrassing and cause unwanted anxiety.
Stress and embarrassment make it difficult to handle situations effectively and contain our emotions. Debt is definitely one of those instances. These circumstances put us on an emotional rollercoaster and cause us to place blame, become depressed, react with anger and feel overwhelmed with hopelessness. Getting creditors off your back may ease your stress and allow you to more effectively manage your debt situation.
Depending on the creditors' previous actions and your position within your debt solution plan, you have a few options. One of the best options available to stop creditors from contacting you is through writing a letter. A "cease and desist" or "do not call" letter is a written request that prevents your creditors from continuing to call or send you mail. Here are some tips for creating a well-written and effective letter to creditors.
#1: Be Professional
Format your letter to creditors as you would any professional document. Begin by listing your name and contact information, followed by the date, then list your creditor or collection agency name and contact information and end by listing your account number. It should look something like this:
Your Name
Your Address Line 1
Your Address Line 2
Your Phone Number
Month Date, Year
Creditor Name
Creditor Address Line 1
Creditor Address Line 2
Creditor Phone Number
RE: Your Account Number
Follow this logistics section with a professional greeting followed by your request. Politely ask for all communications to be stopped. You may cite The Fair Debt Collection Practice Act, 15 USCA Section 1692c, which requires creditors and collection agencies to oblige your request. Although not necessary, including a short description of your financial situation can be beneficial. End with a salutation and a hand written signature. The final letter portion may look something like this:
Dear Sir/Madam:
I am writing to request you stop all communications with reference to my debt, in regards to The Fair Debt Collection Practice Act, 15 USCA Section 1692c.
Please accept my apology for falling behind on my account. I recently lost my job making it impossible for me to keep up with my son's medical bill payments on top of my student loans and credit card debt. I am doing my best with what I have left, while trying to find work, and I regret it has resulted in my inability to make full and timely payments.
Please notify me in writing of any intention to take additional action.
Sincerely,
[Insert Handwritten Signature]
Your Name
#2: Proofread
Reread your letter multiple times and make appropriate changes. Send to a family member or two, a trusted advisor or best of all, an attorney, for review. You'll want to present the best impression possible in your time of financial trouble. So, do everything possible to make sure this letter to your creditors is error free and reflects your professionalism and grace.
#3: Make a Copy & Request Receipt Confirmation
Copy the final letter and request receipt confirmation from the post office when sending your letter to creditors. Keep a copy of the letter as well as the confirmation in your records.
If your creditors do not oblige your request, you may be able to take legal action against them because they will be violating the Fair Debt Collection Practices Act. In order to be successful in court, you will need to prove that you submitted a written request and that the request was received by the appropriate party.
Take the next step toward managing your debt effectively and download our Debt Solutions 101 eBook to learn about your options.