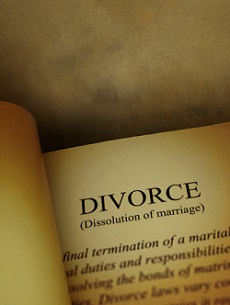 One of the top reasons debtors at our Minneapolis Bankruptcy Law Firm end up filing for bankruptcy is divorce. It is unfortunate because divorce is hard enough as is. Hurt, betrayal, anger, grief, sadness and additional emotions can consume you, plus you have to get through the muddy water divorce creates, such as dividing your assets and learning to live on your own again.
Divorce is a legal process that ends a marriage. This process involves a judge reviewing and approving your case, or if there are disagreements, a judge will step in to make final decisions. Common issues that arise which require a judge include child custody and property and debt division. Court and lawyer fees will likely result if you file for divorce.
Additionally, according to Nolo, "You and your spouse will decide together how you want to divide the marital property--you'll have to decide things like whether one of you will keep the family home and buy out the other spouse's interest or whether you'll sell the house; who will keep the furniture and other tangible property; how you'll divide retirement assets that each of you has accrued through your work; and how to deal with marital debts."
As your divorce progresses, costs add up, as you can see – from lawyer fees, to the loss of your spouse's income, to getting stuck with existing debt. You will be responsible for paying these balances and managing your expenses on your own. For this reason, many people who file divorce are forced to file for bankruptcy as well because they cannot maintain these expenses with their individual income.
The First Wives World states that the average divorce can cost anywhere from $10,000 to $20,000. This isn't usually something you budget for, because no one goes into a marriage planning to get divorced. These unexpected costs add to the cause of bankruptcy filings after divorce.
If you ever find yourself in this unfortunate situation – bankruptcy and divorce knocking on your door – follow these steps.
#1 – Take Deep Breaths
Know that you are not alone. The number of marriages that end in divorce is very high; of those, a large number proceed to file bankruptcy in the future as well. Take the time to breathe and soak in the fact that there is a solution to every problem. Gather and organize all relevant information related to your debts and then talk to a legal professional about your financial situation.
#2 – Don't Wait to Act
When you know you are unable to manage the life you are now in, take action. The longer you wait to take action, the further you will fall into debt and the more stressed and frustrated you will become. If you take action early you can prevent this and spend your time getting your life back in control.
#3 – Talk to a Minneapolis Bankruptcy Attorney
Before you make any decisions, especially before signing any contracts, talk to a bankruptcy attorney. A bankruptcy attorney will present you with all of your options – filing bankruptcy and beyond. Present your situation to a bankruptcy attorney and be honest in all your answers to his or her questions. The only way anyone can help is if you give them all the information to fully understand the big picture. Minneapolis Bankruptcy Attorneys aren't in the business to judge you – they are dedicated to helping you get your life back in control, whether that is through filing bankruptcy or not. Remember, bankruptcy attorney's deal with troubled financial situations for a living. They have seen it all and they want to help you get your life back.
Sometimes all it takes is finding the courage to swallow your pride and make the decision to do what is best for you. The Minneapolis Bankruptcy Attorneys at Kain & Scott P.A. are prepared to make this experience painless; you will likely be giving yourself a pat on the back saying, "Thanks," when all is said and done.
Kain & Scott, P.A.
100 South 5th Street #1900
Minneapolis, MN 55402
612-843-0527