When deciding if bankruptcy is right for you, there are a lot of questions. One of the most common questions that we receive is about the process. Just how does bankruptcy work and what happens after filing?
The first step whenever considering bankruptcy is to meet with an attorney. We will schedule a free initial consultation, where we carefully review your financial circumstances and discuss all of your options.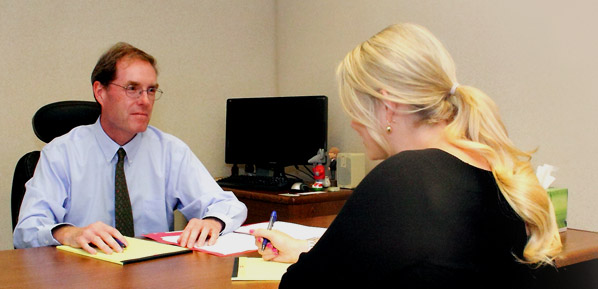 If you choose to file bankruptcy, the next step is to arrange a second meeting. During this meeting, we will thoroughly review a bankruptcy petition and schedules, look at all of your finances, debt, assets, and income, and make sure everything is in order and ready to be filed. It is at this time that we set up a repayment plan, including a monthly payment and a repayment schedule (typically three to five years).
The next step is to electronically file the bankruptcy petition. An automatic stay is immediately in place upon filing, protecting you from creditors taking any action on the debt that you owe. They cannot collect from you or harass you when an automatic stay is in place.
Approximately one month after filing, a meeting will be arranged with a bankruptcy trustee. During this meeting, the trustee will ask you questions – under oath – about your finances. Not only will we thoroughly prepare you for this meeting, we will be there with you.

The next step is to discharge your case. When a case is discharged, the protection you received from the automatic stay becomes permanent, protecting you from the creditors while you work towards repayment. It's important to note that the details of a discharge vary, depending on the type of bankruptcy filed.
If you've filed Chapter 7 Bankruptcy, the case is typically discharged approximately 60 days after meeting with your trustee. The case can be discharged with both the unsecured and the secured creditors. Remember, you must remain current on your car loans and/or mortgage payments during this time.
If you've filed Chapter 13 Bankruptcy, a judge must first confirm – or approve – your repayment plan. This usually happens within a month or so of your meeting with the trustee. You will then repay the debt according to the plan you laid out with your attorney over a set period of time (typically three to five years). At the end of the repayment period, your case will be discharged.
The key to representation and the bankruptcy process is our open line of communication. If you have questions or concerns, ask and we will address them completely and promptly. If you have questions or concerns about your financial situation, come in and see us. Let's see if we can help you.