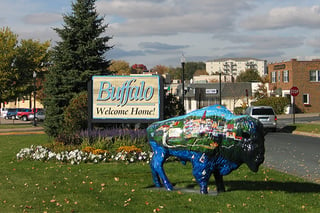 "Debt is like any other trap, easy enough to get into, but hard enough to get out of."
When Henry Wheeler Shaw made that statement over 150 years ago, he may not have been thinking about Bankruptcy in Buffalo, Minnesota but it is almost eerie how true that statement holds today.
Getting into debt is easy. Whether you fell behind on mortgage payments, maxed out your credit cards, got stuck in a payday loan cycle, or made some bad investments, it is incredibly easy for debt to accumulate quickly. The amount of your debt is made even worse by interest rates and penalty fees that can continue to grow the longer your debt is left unpaid. Creditors are either unable or unwilling to work out payment plans that you can afford, so little by little as your debts go unpaid, your credit score ticks lower and lower.
Getting out of debt, on your own, is hard; maybe even impossible for the average debtor. Loss of employment, sickness, or other life circumstances can prevent you from being able to dig yourself out from under your financial obligations. Regular monthly bills such as rent, groceries, utilities, and insurance, may leave little money left over to chip away at the mountain of debt overshadowing you.
However, with the help of the Best Bankruptcy Lawyers in Buffalo, Minnesota, getting out of debt is easy and fast! Debt doesn't have to be a trap from which you can never escape. The lawyers at Kain & Scott can free you from your debt and help you repair your credit fast!
GETTING OUT OF DEBT DOESN'T HAVE TO BE HARD
When residents of Buffalo, Minnesota need help filing for bankruptcy, they turn to Minnesota's leading bankruptcy firm Kain & Scott. We offer fast and easy comprehensive debt solutions for clients throughout Minnesota. Our attorneys specialize in bankruptcy law and have been helping Minnesota residents eliminate their debt for almost 50 years.
Our highly skilled legal team delivers the perfect mix of experience, knowledge, and kindness to help clients wipe out years of debt and resurrect flatlining credit scores. Whether you choose a Chapter 7 or Chapter 13 bankruptcy, we can help you complete and file your paperwork fast. But that's not all: at Kain & Scott, we are proud to offer our bankruptcy clients a FREE 90 Day Credit Repair program, as well as a list of trusted Minnesota lenders, so you can fix your credit score and get financing for the things you and your family need.
Getting out of debt doesn't have to be hard. With our easy 4-step bankruptcy process, you can even file for bankruptcy from the comfort of your own home:
Set up your free initial consultation via Phone, Skype or Facetime
Meet with our friendly staff to review and sign your bankruptcy petition via Skype, phone or Facetime
Attend a 341 meeting near you with one of our assistant lawyers
Sit back, relax, and get your discharge
FINDING THE BEST BANKRUPTCY LAWYERS IN BUFFALO
We know we are the best in the business, but you don't have to just take our word for it. The following simple online search can show you that we offer the best services, by the best people:
Complete a Google search for "Buffalo Bankruptcy Lawyer"
Browse the law firms in the Google Map listings and locate the one with the highest and most Google reviews
Check to see if the most-rated and highest-rated firm also offers a 100% Money Back Guarantee
Contact the firm to find out whether they offer easy payments
Make sure the law firm only does bankruptcy
Choose a bankruptcy law firm that helps you not only get rid of your debt but repair your credit too
That's where you will find us – the most reviewed and highest reviewed bankruptcy specialists who offer easy payments, 100% Money Back Guarantee, and a FREE 90 Day Credit Repair program! Don't trust your financial future to just any law firm: let our outstanding team show you why we are the best bankruptcy lawyers in Buffalo, Minnesota!