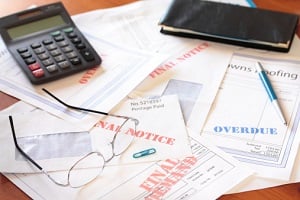 When debts turn into a vicious cycle that threatens to never end, filing for bankruptcy can be a wise and prudent choice to move toward financial freedom. There are multiple types of bankruptcy that suit different situations. The best choice for you will mainly depend on your debts, assets and current income.
Below you will find a description of the key points about both Chapter 7 and Chapter 13 bankruptcies. Generally speaking, Chapter 7 provides a clean break from debts and it is available for people with no or low income. Chapter 13 bankruptcy is geared toward those with steady monthly income who are capable of committing to a repayment plan.
Chapter 7
A Chapter 7 bankruptcy allows for a relatively straightforward erasure of your unpaid debts. Certain kinds of debt (like student loans and child support) cannot be discharged in all types of bankruptcy, Chapter 7 included. A Chapter 7 discharge means that your legal responsibility to pay off your debts is eliminated.
Eligibility:
The key factor in Chapter 7 eligibility is your income. The rule-of-thumb is that your income must be below your state's median income. Having little to no disposable income after paying necessary living expenses can also grant eligibility. However, if you make too much to qualify for a Chapter 7 and your income is steady, this eligibility factor may make Chapter 13 a better fit for you (see below).
If you have previously filed for Chapter 7 within the last eight years, you cannot file again. You might be able to file for other types of bankruptcy, however.
What Happens To My Debts?
In Chapter 7, all your debts, other than non-dischargeable debts (like student loans and child support – ask your attorney about others), will be discharged (erased). The debts are officially cleared when the bankruptcy proceedings are over.
What Happens To My Assets And Property?
Most Chapter 7 debtors lose no assets in bankruptcy. In most cases, debtors are able to keep their homes, vehicles, clothing, pensions and many other assets.
If you have loans that are secured to your home or auto, as long as you continue to be current on those payments, debtors retain ownership and possession of these assets.
In Chapter 7, the portion of your debts that gets repaid is based on the liquidation of some non-exempt assets. This gives your creditors some distribution for the debt owed to them. Most debtors do not have non-exempt assets. In other words, most debtors lose no assets in bankruptcy.
How Does Chapter 7 Affect Credit?
A notation on your credit report will appear after your debts are discharged. Your credit score has likely suffered because you fell behind on payments, but filing bankruptcy will give you a fresh start and enable you to start rebuilding your score. Your credit will gradually improve as time passes and you properly manage your debts. We can work with you to determine steps you can take before and after filing to best improve your credit.
Chapter 13
The key feature of Chapter 13 is the payment plan you'll develop to repay some or all of your debts based upon what you can afford to pay. Like other types of bankruptcy, Chapter 13 can include freeing you from certain debts completely. Additionally, keeping your assets is much easier under Chapter 13.
Eligibility:
To qualify for Chapter 13, you must have less than a certain amount of unsecured debt ($360,475 as of 2013) and secured debt ($1,081,400 as of 2013). Otherwise, eligibility is mainly based on your ability to plan and commit to some repayment schedule.
What Happens To My Debts?
Because Chapter 13 is for people with steady income, you must comply with the repayment terms you agree upon with the courts. As long as the terms of repayment are met, any remaining debts that exist at the end of your repayment schedule are discharged (unless they are non-dischargeable, such as child support and student loans, among others).
What Happens To My Assets And Property?
As long as you continue making payments, you can keep your property and assets in a Chapter 13 bankruptcy. Debtors who possess assets that are non-exempt – which would be taken by a Chapter 7 trustee, liquidated, and the proceeds used to satisfy some or all of your debts in a Chapter 7 bankruptcy – would not lose those assets in a Chapter 13 (as long as certain conditions are met).
How Does Chapter 13 Affect Credit?
Chapter 13 discharge has favorable effects on your credit because you will have less debt on your credit report upon discharge. Your credit report will show the bankruptcy for up to ten years.
Request a bankruptcy consultation to determine which type of bankruptcy is right for your specific situation and begin your journey toward financial freedom.