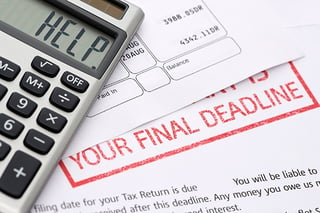 Struggling with overwhelming debt? If the answer is yes, you know the impact debt can have on your health. Debt is often accompanied with stress, anger, denial, and depression. Debt can also be accompanied by relief. In order to feel the relief associated with debt you have to take the necessary steps to overcome the underlying problem. One of the most effective ways of doing so it to file bankruptcy. Bankruptcy can provide relief by eliminating overwhelming debt in a matter of a few short months.
Depending on how long you have been struggling with overwhelming debt, your stress levels may have reached their max. Stress can cause anger, sleepless nights, and weight gain/loss. Ultimately, however, the stress is not going away until the underlying problem is taken care of. Just like anything else in life, overwhelming debt does not go away on its own. You need qualified and professional advice on ways to tackle the problem you're confronted with.
Absent a rich uncle who is willing to pay off your debt, there are four options available to you. You can do nothing, you can participate in a debt consolidation plan, you can file a Chapter 7 bankruptcy, or you can file a Chapter 13 bankruptcy.
4 Debt Relief Options
Doing Nothing
By now you know the first option of doing nothing is not a good option. Ultimately, you will not be thrown in jail for failure to pay your debts, but do you really want to continue being harassed by creditors? Your creditors will continue to be ruthless and pursue collection until your bank accounts and/or paychecks are garnished. We all work hard for our money, so the last thing we want to have happen is find out our paychecks are garnished or the bank account is levied.
Debt Consolidation
Suppose you want to tackle your debt problems by paying off the debt. If this is a financially feasible option for you, I support you 100%. Debt consolidation plans exist to provide relief to individuals who have overwhelming debt and can make aggressive payments each month to satisfy their debts. Consolidating your debt into one monthly payment helps simplify the process of making payments. Also, debt consolidation companies can often reduce the amount of overall interest you pay on your debt. Keep in mind, however, these companies don't work for free. They do charge interest and they do charge you for the work they do. For the most part, unless you can be aggressive in paying off the debt consolidation loan, it is unlikely to be a feasible option.
Chapter 7 Bankruptcy
Chapter 7 bankruptcy is a great option for many consumers because the quick relief it can provide. In a matter of four to six months, an individual who files Chapter 7 Bankruptcy can feel the benefits of a debt-free life! Chapter 7 bankruptcy is a fairly quick process whereby an individual can discharge (get rid of) most, if not all, of their debts. As soon as your case is filed, creditors must stop collection activity and cease communication. So, if you're tired of creditors calling you non-stop, this does not have to continue much longer. There are many advantages of filing Chapter 7 bankruptcy. And, unlike the common misconception suggests, most people who file Chapter 7 bankruptcy do not lose any of their assets in bankruptcy.
Chapter 13 Bankruptcy
For some people, Chapter 7 bankruptcy is not the best option. When our MN Bankruptcy Attorneys review each case, they do a thorough analysis of what the best option is for you. Chapter 13 bankruptcy allows for individuals who have a lot of assets, or make quite a bit of money, to reap the benefits of relief provided for in bankruptcy. Chapter 13 bankruptcy is essentially a government sponsored debt consolidation plan. Through a Chapter 13 bankruptcy, you can expect to make monthly payments towards your creditors over a three to five year period. The great part of this is, it's interest free!! When our MN Bankruptcy Attorneys review your case, they will put together a payment plan that is affordable. If you do a Chapter 13, the payment plan will never be something you can't afford. One of the best things about a Chapter 13 Bankruptcy is, after you have finished making your monthly payments, on time for three to five years, any amounts of debt that aren't paid off are forgiven, forever! Chapter 13 is a great option to protect your assets if you own a lot of "stuff". So, if you own a lot of toys (atv's, motorcycles, boats, snowmobiles, etc.) and you want to make sure it is all protected through bankruptcy, Chapter 13 might be just what you're looking for.
Deciding between filing a Chapter 7 or Chapter 13 is often a personal one. Our MN Bankruptcy Attorneys will provide you with the information needed to make an informed decision, but at the end of the day we will always listen to you. Each case is very unique and requires detailed attention to make sure every client is cared for the way they deserve.
Contact A MN Bankruptcy Attorney
Dealing with stress, anger, denial, and depression can be a thing of the past. Overwhelming debt is no joking matter and can have a long-term impact to your well-being. If you've been dealing with debt for too long and want to discuss your options, give us a call. Our MN Bankruptcy Attorneys are dedicated to serving our clients and will formulate a plan to help you get your life back. Depending on your circumstances, bankruptcy may be exactly what you need to feel the long-awaited relief you deserve. We understand reaching out for help can be incredibly difficult. Because of this, we promise you will never be judged and you will receive the honest answers you deserve. If you take the first step by reaching out for help, we will guide you through the process of getting your life back!